Smart Homes of the Future
From smart phones to smart cars, technology is transforming virtually every aspect of our busy lives. Technologies not only make life easier while on the go, but new options are quickly simplifying life at home as well. Home automation is proving to be a top home improvement trend. Ninety million homes around the world will have some form of home automation solutions in place by 2017 according to a study.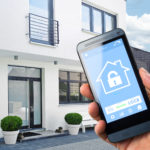 2013 has been a fascinating year for home automation. We've seen growth at the luxury level, the do-it-yourself entry level and everything in between. While the costs and systems vary from home to home, most home owners are looking for ways to make their lives easier by making the system fit in with their lifestyles.
Home automation isn't a one-size-fits-all product, so customization is the key. Call it the next frontier of personalized technology. The explosion of high-speed Internet and app-centric smart phones has made it easier for an owner to enjoy the benefits of home technology. This includes the luxury of controlling home systems from a Remote device (Smart phone or Tablet), round-the-clock security for the home even while the owner is miles away, maximum energy saving, thus cutting back on electricity bills and contributing to the creation of a greener earth. There are countless possibilities with home automation gateways and control systems. The connected home continues to evolve from basic connected home networks to a feature-rich collection of CE devices, broadband-enabled services, and multi-functional set-top boxes and home automation gateways.
There are several innovative Home Automation solutions being widely discussed in design labs across the globe. I'm sharing a quick overview of two of these technologies and their impact.
Digital Dog:  One of the ideas doing the rounds is that of a 'Digital dog'. The 'digital dog' will be a home automation system focused on security. Security cameras, thermostats, door sensors and light modules that are wirelessly connected to the home's high-speed Internet, allows you to control all of the home's basic functions from any personal computing device, such as a tablet or smart phone. The 'Digital dog' will be in charge of monitoring the entire home. Imagine unlocking the front door from your office when the kids forget their keys or cranking up the living room's heat during your commute home from work. For instance, if a postman is at your home for an important post delivery but you are at work, the Digital Dog system will interact with the postman, collecting his inputs which would be converted into a text message and sent to the user through the GSM network. This will help in keeping a tab on people who visit the house in the absence of the owner. Video monitoring of the house from anywhere can also be made possible through the Digital dog system.
Smart Building Automation Systems (SBAS): This is another booming trend in automation technology which can make meaningful reductions in the energy consumed by smaller commercial buildings or even residential projects. Lighting control systems use time and zone controls to turn off lights in any area of a building that is unoccupied, relying on occupancy sensors to indicate when people move from area to area and switching the lights on or off accordingly.
The air flow in Air Conditioning also can be controlled based on how many people are there in the floor through heat radiation sensors. Some of the other features include: Automated Entry and Exit automation to commercial office buildings using bio Metric sensor/smart cards and Correct Seat/Cubical occupation identification via Motion Detection Cameras and Access control Sensors. For example, if an employee enters a commercial office building, the system identifies and provides access to only his cabin or cubicle (PC, Light, AC, and Enter/Exit Door permissions).
With the speed of digital age, home automation technology is set to gleam in 2014. The Home automation world is shaping in two ways – by shrinking smart technologies into a smaller package and building a world that's always connected.
*Published in EE Times India