Mobile Command Post (MCP)
Mobile Command Post (MCP) is a custom-built robust vehicle equipped with advanced command and control equipment for emergency responses in Airports. The MCP design is customizable and capable of supporting diverse missions of military, security or police units. It can be quickly dispatched to the site of disaster/emergency and can undertake the local command, control and coordination among the multiple agencies responding to the emergency. This case study showcases Mistral's capability in designing a customized Mobile Command Post for Airports that can handle emergencies and disasters at the Airport premises.
The Customer
The customer is Bangalore International Airport Limited, Bengaluru (BIAL), South India's busiest and India's third largest airport. BIAL (KIAB) was keen on a state-of-the-art Mobile Command Post for Airports to quickly respond to emergencies and any law and order crisis. The deployment of a Mobile Command Post vehicle has been recommended at all Indian Airports by DGCA & ICAO to handle emergency situations like Air Crash, Air Hijack or Fire, etc. in and around the Airport Terminals and Aerodromes.
The Requirement – Mobile Command Post for Airports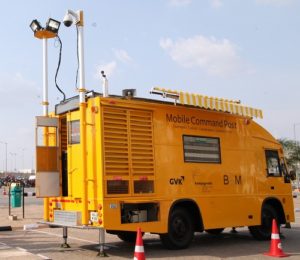 KIAB approached Mistral for a tactical MCP which is ideal for incident management necessitating mobility, inter-connectivity and communications. The Mobile Command Post for Airports had to be highly efficient and would have to serve as a coordination, communication and command center during emergencies handling fire and rescue management, security, evacuation, medical support, ambulance management among other responsibilities. The Mobile Command Post for Airports would have to work in coordination with the Fixed Emergency Operations Centre located on the landside.
Mobile Command Post for Airports – The Solution Provided
Mistral designed an integrated Mobile Command Post based on a 4×4 vehicle chassis that consists of an operator managed Wireless Radio Communication System allowing the various agencies to communicate seamlessly with each other during an emergency.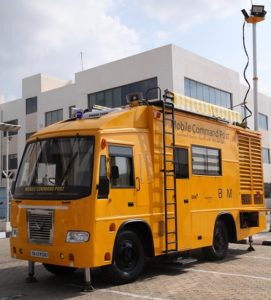 The Mobile Command Post vehicle was installed with a video wall display for live Video feed transmission from the disaster site via 6-meter high, mast-mounted PTZ Camera. A 6-meter mast with LED Flood lights was installed for night-time operations.
An auto-tracking Mobile Dish TV Antenna provides the Mobile Command Post with live Satellite DTH TV channel feeds, which provide the controller with updated media news about the disaster. All the electronics were installed inside vibration and shock-proof mounted racks, to prevent the damage due to driving uneven terrain. This Mobile C4ISR platform was self-contained in terms of power generation with a Diesel Genset & UPS supplying a back-up of up to 2Hrs. Raw power, when available, could also be used to power the electronics.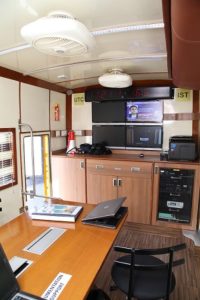 Mistral can design, integrate and supply custom Mobile Command Post Vehicles as per the latest standards and IT equipment to facilitate quick and easy communication from airport premises. Mobile Command Post for Airports can be built over rugged platforms desired by the customer such as Truck, Bus or SUV chassis with extended command control room facilities.
To know more about the Mobile Command Post, various Communication, Command and Surveillance systems on board, read the full case study. Contact our Homeland Security team for custom designed Mobile Command Post for Airports and MCCVs ideal for Critical Infrastructure Protection –  hs@mistralsolutions.com.