ANSYS medini analyze
Provides manufacturers of electronic components and systems in aerospace domain with dedicated support for functional safety analysis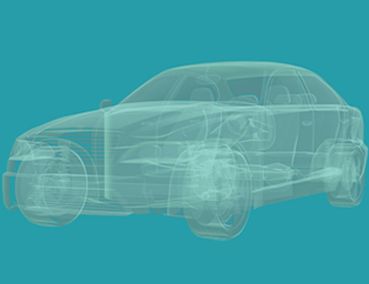 Overview
The safety analysis of electronic components and systems in the aerospace domain is a precondition for obtaining necessary certifications and may consume more than half of the overall development effort. ANSYS medini analyze customers report an up to 55 percent decrease in efforts for functional safety analysis and a similar decrease in time-to-market. Additionally, inconsistencies in the functional safety analysis work products are eliminated, and the certification process is accelerated, especially with respect to design changes.
The safety analysis of aerospace systems is carried out in parallel with the system development. Analysis methods utilized include functional hazard assessment (FHA), failure condition classification, failure modes and effects analysis (FMEA), failure modes and effects summary (FMES), fault tree analysis (FTA) and common cause analysis (CCA). These methods need to be carried out at various levels ranging from aircraft-level through systems to the detailed-item level. With medini analyze, these safety analysis methods can be performed at each of these levels. And, in contrast to existing point tools, medini analyze is fully integrated and model-based.
ANSYS medini analyze supports standard safety analysis that conforms to ARP4761, ARP4754A and AIR6110 guidelines for aerospace systems. With its integrated systems modeling language (SysML) modeling capabilities, medini analyze enables safety analysis utilizing the information available in the models. This eliminates the need for duplication of data while performing the analyses, and keeps these consistent with the actual engineering models and with each other. Furthermore, rich traceability among all model elements — including the safety requirements — is enabled, allowing users to conveniently demonstrate the overall safety of an aircraft or system.
The necessary documentation is generated with medini analyze's report generation functionality. These reports are fully customizable to the needs of the customer
Specifications
Safety assessment methods at the aircraft and system level: functional hazard assessment (FHA), preliminary safety assessment and Safety Assessment (PSA, SA).
Safety analyses: fault tree analysis (FTA), failure modes and effects analysis (FMEA), failure modes, effects and diagnostic analysis (FMEDA), failure modes, effects and criticality analysis (FMECA), failure modes and effects summary (FMES), common cause analysis (CCA), hazard and operability studies (HAZOP) and reliability analysis.
Architecture and function modeling with SysML.
Tight integration of architectural/functional design models with quality, reliability and functional safety analysis methods.
Capture and management of safety requirements.
Support of complete end-to-end traceability.
Customizable work product/documentation generation.
Teamwork with detailed compare-and-merge and server-based configuration management.
Full integration with ANSYS tools for embedded systems development, analysis and simulation: ANSYS SCADE Architect and ANSYS RedHawk SC.
Integration with IBM® Rational® DOORS®, PTC Integrity™, MS® Office, MATLAB®/Simulink® Stateflow®, TortoiseSVN, IBM® Rational® ClearCase® and others.
SUBSCRIBE TO OUR NEWSLETTER