CHAMP-WB
6U OpenVPX Virtex-7 Processor Card targeted specifically at wide-band, low latency applications that require large FPGA processing, wide input/output requirements, with minimal latency.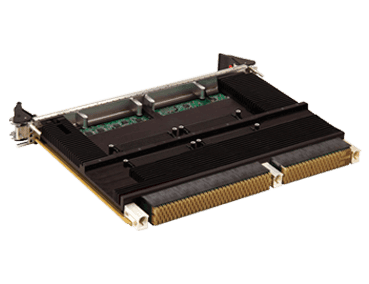 Overview
The CHAMP-WB from Curtiss-Wright is a signal processing engine that belongs to the family of user-programmable Xilinx Virtex-7 FPGA based computing products. As a standalone card, the CHAMP-WB is designed to support any application that needs large amounts of I/O bandwidth coupled with significant FPGA processing and minimal delay. Its modular design supports both standard Virtex®7 – compatible FMC (VITA 57) mezzanine cards as well as providing for higher throughput modules such as the TADF-4300.
The CHAMP-WB, signal processing engine, is designed to meet the needs of embedded high-performance digital signal and image processing applications. The CHAMP-WB is the highest performance ADC/DAC module for Wideband, Low-Latency Electronic Warfare applications, that require large FPGA processing, wide input/output requirements
The CHAMP-WB signal processing engine couple the dense processing resources of a single large Virtex7 FPGA with two high-bandwidth enhanced FMC mezzanine sites on a rugged 6U OpenVPX™ (VITA 65) form factor module. The board's data plane connects directly to the FPGA with support for Gen2 Serial RapidIO® (SRIO) data plane fabric. Alternate fabrics can also be supported with different FPGA cores. A Gen3 PCI Express® (PCIe) switch connected to the board's expansion plane enables a single host card, such as Curtiss-Wright's VPX6-1957 or CHAMP-AV8 to control multiple CHAMP-WB cards without utilizing data-plane bandwidth. Memory support on the CHAMP-WB includes two (2) 64-bit 4 GB DDR3L memory banks that provide up to 8 GB of on-card data capture or pattern generation capability. The CHAMP-WB features two (2) high-bandwidth FMC sites that have been enhanced with an auxiliary connector to provide additional I/O capability. Twenty back-plane SERDES links, which can operate up to 10.3 Gbps, and 16 LVDS pairs provide additional I/O capability.
The TADF-4300 module supports sampling in the 2nd Nyquist zone, to analyze signals up to 8 GHz and provides sub-30 ns latency for the ADC and sub 10ns for the DAC. Spurious Free Dynamic Range varies over frequency, and is >58 dB up to 3 GHz and decreases to 45 dB from 3 GHz to 6 GHz signal input frequency. ENOB varies linearly from 7.2 at low frequency, 6.5 at 3 GHz and 6.2 at 6 GHz.
TECHNICAL SPECIFICATIONS
Single user-programmable Xilinx Virtex-7 FPGAs (X690T or X980T), with
8 GB DDR3L SDRAM in two banks
Four 4-lane serial data plane links to the backplane (support up to 10.3 Gbps data rates)
16 LVDS pairs to the backplane
Two Mezzanine sites with support for FMC (VITA 57) or enhanced FMC
Onboard PCIe Gen3 switch
FXTools BSP and FPGA design kit with highly-optimized IP Blocks, development environment, reference designs, scriptable simulation test benches and software libraries
VxWorks and Linux variants available
6U VPX VITA 48 1" pitch form factor
SUBSCRIBE TO OUR NEWSLETTER