IFF-Communication Interface Unit
FPGA based platform for effective communication between IFF RADAR sub-systems. The IFF-CIU has been qualified to confirm to Environmental (MIL-810F) and EMI-EMC (MIL 461E) based tests.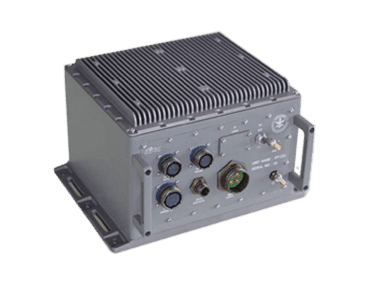 Overview
The Communication Interface Unit (CIU) is a part of the IFF Radar and manages communications between Interrogator, RADAR Controller, and Encoder. This Radar Communication Interface, designed by Mistral, is an FPGA based platform that can be used for effective communication between the above subsystems.
Being an FPGA based platform, it allows the flexibility to modify the communication protocols based on their needs. The Radar Communication Interface, CIU extracts Radar angle information from the encoder interface signals and communicates the same to the relevant IFF subsystem.
Additionally, the Communication Interface Unit receives messages from the IFF interrogator, Radar processor, and pedestal controller through RS422 and Gigabit Ethernet communication channels. The relevant information is interpreted, unpacked and packed and forwarded to the respective subsystems. CIU also supports remote FPGA reconfiguration. The FPGA and the SW image can be remotely reconfigured via Ethernet interface. This prevents the need for the CIU unit to be brought to the lab for any upgrades and all upgrades can be managed in the field under the deployed environment. The Communication Interface Unit has been qualified to confirm to Environmental (MIL-810F) and EMI-EMC (MIL 461E) based tests.
TECHNICAL SPECIFICATIONS
GPS receiver operated at L1 frequency
5- port Ethernet switch which supports 10/100/1000 Mbps
V- irtex 5 FPGA with embedded PowerPC
On board 100 MHz Oscillator
Upto 2Gb DDR2 SDRAM
Upto 2Gb Flash
Temperature sensors
Voltage Monitor
12 LVTTL I/O signals
Configurable RS422 transceivers
Opto-isolation circuits for high voltage discrete signals
IEEE 1149.1 compatible JTAG Interface
Input voltage of 28V (18-36Volts) passed through EMI filter and step down converters to generate respective voltages required onboard
Complaint to MIL-STD 461E and MIL-STD 810F
Conduction cooled unit with mechanical dimensions of 300 X 255 X 180.5 MM, material used is aluminum alloy 6082
Unit weight is less than 5kg.
SUBSCRIBE TO OUR NEWSLETTER