SCADE Display
Design robust embedded displays for human machine interfaces with native support for the OpenGL® SC1 & SC2 (Safety Critical) and ES1 & ES2 (Embedded system) standards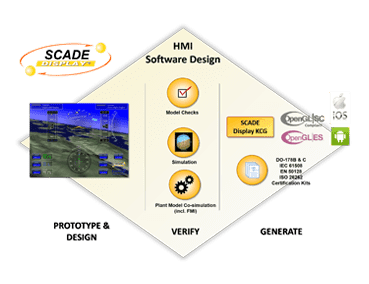 Overview
SCADE Display is part of the ANSYS Embedded Software family of products, which provides you with a versatile graphics design and development environment for embedded Human Machine Interfaces (HMI).
With native support for the OpenGL® SC1 & SC2 (Safety Critical) and ES1 & ES2 (Embedded system) standards, SCADE Display represents a new generation of graphics software development tools, spanning prototyping, display design, simulation, verification and validation, and certified code generation supporting several safety standards in a certifiable environment.
SCADE Display is tightly integrated with SCADE Suite to provide a comprehensive development environment for both embedded HMIs and their behavioral logic.
TECHNICAL SPECIFICATIONS
Graphical Prototyping and Design
HMI Behavioral Logic Design
Support for Application Life Cycle Management
Interactive Simulation
Integrated Design Checking
HMI Testing Automation
Automatic Code and HMI Generation
Certification for Critical Safety Standards
Connectivity with System Simulation Tools
SUBSCRIBE TO OUR NEWSLETTER