SVME/DMV-1908
Low-cost, high performance, high speed DDR3 memory 6U VME Single Board Computer based on the 4th Generation Core i7 "Haswell" Processor, with VxWorks 6.9, WES7, LynxOS and Fedora Core BSPs.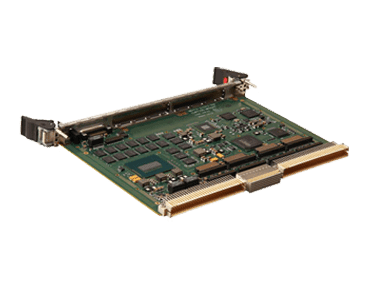 Overview
The VME-1908/B from Curtiss-Wright Defense Solutions is designed to be a low-cost, high performance technology insertion Single Board Computer (SBC). The VME-1908/B supports Intel's mobile processor technology, the 4th Generation Core i7 "Haswell" Processor. Utilizing this advanced quad-core CPU and Curtiss-Wright proven ruggedization technology, the VME-1908/B is a perfect replacement for older SBCs, breathing new life and increased performance into systems required to be around for years to come.
With a contemporary high speed DDR3 memory subsystem connected directly to the processor and with a capacity of up to 32 GB, the VME-1908/B is able to maximize the Intel floating point processing units through the Core i7 processor. The Core i7 is also equipped with L3 cache allowing it to process larger vectors at peak rates than previous processor technologies.
The VME-1908/B includes dual X/PMC PMC sites for the latest as well as legacy daughter cards. Additionally, the board supports a host of standard I/O including Gigabit Ethernet, RS-232/422, GPIO, DVI, SATA, USB, and Audio. It comes with four popular operating systems, VxWorks 6.9, WES7, LynxOS and Fedora Core
TECHNICAL SPECIFICATIONS
Intel Core i7 "Haswell" 4th Gen processor
Quad-Core (8-thread) i7-4700EQ at 2.4 GHz with Turbo
Up to 32 GB DDR3
Up to 128 GB SATA NAND flash
Supports two PMC/XMC expansion mezzanines
Supports Linux (Fedora and Red Hat Enterprise Linux (RHEL)), VxWorks, Microsoft Windows Embedded Standard and LynxOS
Available in air-cooled and conduction-cooled versions
Applications: Legacy VME system upgrades. General computing and mission processing, Systems requiring demanding storage, data logging and sensor processing requirements
SUBSCRIBE TO OUR NEWSLETTER