VME-690 Gigabit Ethernet Switch
Fully-featured Gigabit Ethernet Switch designed to provide complete networking solution for VME systems. Suitable for a wide range of embedded computing and vehicle network applications, the VME-690 provides 20 ports of standards compliant 1000BASE-T Gigabit Ethernet to the VME backplane.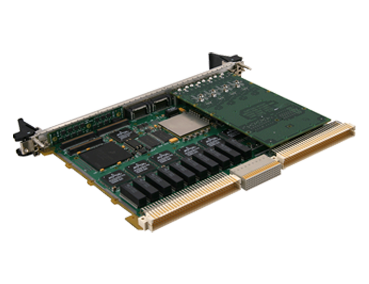 Overview
The VME-690 Gigabit Ethernet Switch features a highly integrated enterprise-class switch device that delivers line-rate switching on all ports across all packet sizes. Integrated multi-layer switching software provides an extensive set of features for monitoring and enforcing traffic policies. Management interfaces include a powerful command line interface, SNMP and web-based options. In-band management and networking features provide support for both IPv4 and IPv6.
As more devices and critical systems connect to the network, robust security has become essential. To address this need, the VME-690 is designed to address common security requirements, with the ability to disable non-essential services and control management access. Designed from the ground up for superior durability and reliability, the VME-690 incorporates Curtiss-Wright's industry-leading hardware design and validation practices to meet the stringent requirements of the most demanding front-line environments.
Specifications
Up to 24 ports of IEEE 802.3 1000BASE-T Gigabit Ethernet
Fully managed multi-layer switching with CLI, SNMP and web-based interfaces
Extensive networking feature set for segmentation, filtering, QoS and traffic management
Optional Gigabit optical interfaces
Supports services XMC for routing, security or network services
Available in standard air-cooled and conduction-cooled rugged form factors
SUBSCRIBE TO OUR NEWSLETTER