VRDV7000
Small form factor, lightweight, ruggedized Dual-channel HD/SD Video Recorder that supports both digital (HDSDI) and analog (RGB, S-Video, and composite) video.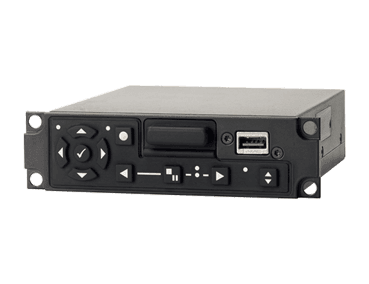 Overview
VRDV7000 is the latest member of Curtiss-Wright's family of small form factor, lightweight, rugged digital video recorder. These Dual Channel HD Video Recorder combines and enhances many of the features offered in other members of the family, including support for both digital (HDSDI) and analog (RGB, S-Video, and composite) video. 
The VRDV7000 is designed for capturing high definition (HD) mission video with accurate metadata in demanding aerospace, defense, law enforcement and homeland security applications that require optimal performance in harsh environments. The rugged VRDV7000 captures dual-channels of digital (HD-SDI) and analog (RGB and composite) video.
The VRDV7000 supports simultaneous recording and playback, enabling surveillance teams to view uninterrupted live video sources while reviewing previously captured video in a separate display, or in a single display, such as the Curtiss-Wright 10.4″ AVDU2600 LCD touchscreen display, that supports picture-in-picture or picture-by-picture viewing. The VRDV7000's support for precise metadata is ideal for capturing live video and combining it with critical situational data such as camera, date/time, and GPS information. For airborne surveillance crews that need accurate evidence, and for Search & Rescue (SAR) teams that need pinpoint location accuracy, the VRDV7000 delivers a compact, reliable solution.
Rugged digital video recorder, VRDV7000 uses MPEG-4 Part 10 (Advanced Video Coding)/H.264 video compression technology to provide the highest quality video recording at a bit rate that allows many hours of recorded video to be stored on a Secure Digital (SD) card or a USB Flash drive. A standard non-proprietary file format is used so that recordings may be played back on standard media player software without any further processing required.
TECHNICAL SPECIFICATIONS
Support for SDI (SD/HD/3G), CVBS/S-Video, RGsB and RGBHV video
Simultaneous recording of up to two channels of video and two channels of stereo audio
Simultaneous playback while recording
SD card and USB flash drive for removable storage
Up to ten hours of recording on a single SD card or USB flash drive
DZUS mounting for aircraft control panels
Metadata support for accurate time synchronization and data search and retrieval
Supports overlay of text on playback of recorded video
Controllable from the front panel, from Curtiss-Wright's family of rugged displays, or via Ethernet
Applications: Evidential recording, Mission debrief, Post-mission training
SUBSCRIBE TO OUR NEWSLETTER