24 x 7 Tethered Drone
A tethered Aerial Reconnaissance and Communications system designed to provide continuous, long duration operation and enables reliable long-distance communications.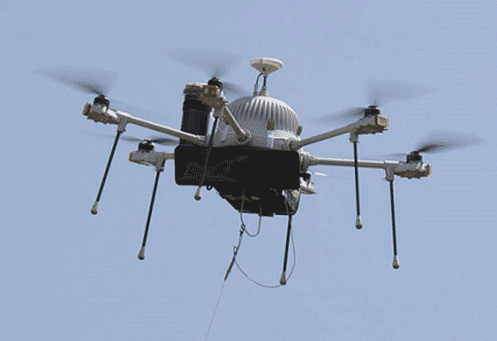 OVERVIEW
Mistral ARC400 is powered from the ground using patented Microfilament tether technology. The Microfilament tether also provides unbroken HD video and secure command and control. The Mistral ARC400 consists of a Ground Control Station (GCS) and a MIL grade hexa rotor VTOL drone. The drone carries a gyrostabilized, Gimbal mounted, EO/IR camera payload.
In addition to the camera system, the Mistral ARC400 drone has additional payload capacity for communications devices. The drone can operate at altitudes of up to 400 feet or 10,000 feet density altitude. The Mistral ARC400 provides high quality, full frame rate, unbroken, secure HD video that no other small or micro UAS can match. The system can accept power input from a variety of AC and DC sources, making it viable for a wide range of applications.
FEATURES
Extreme Endurance: Long duration 24 x 7 operation
Flexible Power Input: Connect to generator, grid, vehicle, or other power source
HD Video: High quality, full frame rate
Night Vision: Combined EO/IR means no need to swap payloads when lighting changes
Secure Communications: Direct connection with GCS can't be intercepted, jammed or spoofed
Gyro Stabilized Camera Gimbal
SUBSCRIBE TO OUR NEWSLETTER