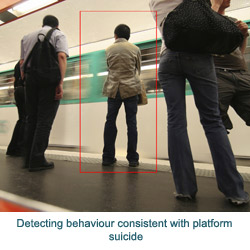 Security analysts IMS Research have charted a 65% annual compound growth in the video analytics market since 2004 and predict that the sector will be worth £215 million in 2009.  Here, Chris Gomersall, Chief Executive Officer of London-based analytics provider Ipsotek, outlines the technology, describes on-site challenges and considers likely developments.
Referred to variously as "intelligent video surveillance" or "intelligent scene analysis", video analytics employs algorithms and vector partitioning to detect unexpected movement or unusual behaviour that may pose a threat to people, property and infrastructure.  The software filters and interprets data captured by CCTV cameras in circumstances where a human observer would struggle to assess developments as they arise.  The analysis can be performed in real-time or retrospectively in playback for evidential purposes.  Real-time messages on potential risks or situations requiring attention can take the form of audible and visual alarms, on-screen alerts, SMS messaging and direct communication with emergency services.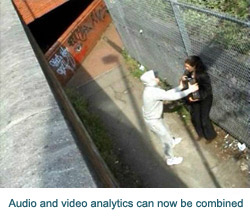 Common scenarios observed by analytics suites include border security, abnormal pedestrian or vehicular motion, suspect packages, platform suicide and many forms of street crime or deviation from social norms.  Such deviation can cover prostitution, kerb crawling, drug dealing and trackside intrusion.
Scene analysis providers have built up a flexible core of behavioural algorithms to create numerous generic and client-specific alarm triggers.  These can cover complex needs or be as simple as surveillance of a sterile zone.  In addition to the scenarios described above, usage can include prevention of ATM surfing, graffiti, vandalism, tailgating, loitering, theft of museum artefacts, station or stadium overcrowding and platform suicide.
Combating operator fatigue
A principal benefit of video analytics is that it removes the problem of operator fatigue.  Estimates vary but published figures indicate that after 20 minutes the ability of even a well-motivated security guard to concentrate on a monitor screen drops by 90%.  Mechanised observation not only eliminates human error but also requires a low ratio of monitors to cameras with attention being focused on known "hotspots" and previously identified issues.  The technology also produces savings in review processes since less time is spent observing eventless footage and false alarms are minimised.  Expenditure on human resources is reduced dramatically since the numbers of cameras to operator (typically more than 1:100) is high.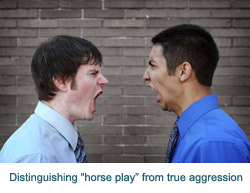 A video analytics software suite can be "taught" to discriminate between movement that is meaningful and motion such as a swaying tree that is an integral part of the environment and not a threat.  Thus, swaying foliage which might need to be masked out of the scene when using cruder systems can be distinguished from salient movement such as an intruder penetrating a location from the same piece of wind-effected woodland.
A sophisticated video analytics suite can overcome occasional picture break-up and interference (known to video engineers as "noise") without producing nuisance alarms.  Low levels of ambient light and varying weather conditions can also be accommodated by an analytics system that has been carefully configured.  Leading analytics solutions use object tracking to evaluate individual objects and follow their movement.  The technology's ability to chart the movement of a single suspect in a crowded scene through vector analysis is perhaps the crucial development that is making analytics a viable approach in public spaces.
Combining audio with video analysis
A crucial step forward for the analytics sector has been the use of audio analysis in tandem with video analysis.  Audio analysis can cover detection of gunshots and airplanes as well as the sound of abnormal mechanical processes such as a car engine malfunctioning.
A common inner-city application is detection of shouting or screaming consistent with assault or rape.  Effective audio analysis frequently allows security officers to intervene before an incident escalates and the analysis can be invaluable for evidential purposes.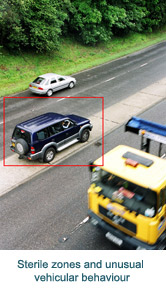 There is also much scope for applications within transport infrastructure and recent audio analysis at Schipol Airport in the Netherlands revealed that a significant proportion of the noise cited by residents as emanating from aircraft was in fact produced by vehicles on an adjacent motorway.
As with video analysis, false alarms in the audio field are an anathema to the end-user and damage the credibility of the technology.  Thus, the ability to categorise and separate sounds, making distinctions between, say, rowdy but non-threatening behaviour outside a night-spot and audio signals that indicate a genuine problem becomes an all-important feature.
Distinguishing aggression using audio analytics
It is in social deviance that video analytics holds out massive potential for central and local government.  For many years the CCTV sector's ability to provide security officers with almost limitless video footage has far outstripped the ability of operators to interpret that footage.  High quality, intelligent video analytics has changed this, and a gamut of situations indicating undesirable social behaviour can be assimilated by the software to create alarms.
Body language and pattern of movement in video analysis
Kerb-crawling and prostitutes working from cars are examples where pattern of movement can be used to cue an alarm.  Posture and movement are also relevant to car theft and a correctly configured analytics device in a parking lot will be able to distinguish between the legitimate behaviour of a driver walking straight to his car and unlocking it with the contrasting behaviour of a criminal hovering near a succession of vehicles and assessing them before attempting a break-in.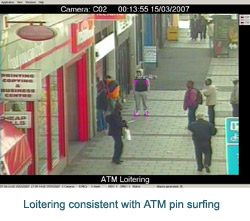 Public concern over street security, particularly anti-social behaviour, continues to escalate across Europe but video analytics now offers viable solutions for reducing social disturbance.  Intelligent scene analysis is about to bring massive benefits to civil servants and law enforcement bodies who are sufficiently far-sighted to recognise the potential of the technology in this area.
Research and development
Analytics suppliers are currently addressing myriad scenarios in both the commercial and public sectors.  If the software is to continue to keep pace with the variety of tracking demanded by end-users, algorithms and behavioural analysis must develop continually since the type of deviation from normal behaviour against which clients wish to discriminate is infinite.  Some user needs verge on the bizarre and Ipsotek recently received a request from a client who wished to use audio analytics to detect sectarian chanting at football matches.
Multi-platform capability and human resources saving
One of the principal benefits of video analytics is that it can be installed to work with legacy CCTV systems and analogue cameras.  Providing video footage is transmitted to a suitable digital video recorder or network video recorder there is no necessity for IP-addressable cameras though network-addressable systems are of course becoming increasingly common.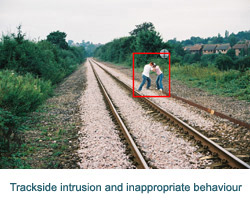 The financial savings on manned guarding and control room staff are enormous and in a recent development, an Ipsotek client in the estate management sector has expanded its use of video analytics at a cost of €35,000 when a comparable increase in manned guarding would have cost in excess of €56,000 with the surveillance being performed at a demonstrably inferior level.
As analytics continues to improve and the leading providers respond resourcefully to a broad range of user demands, scene analysis will gain wider acceptance in both government and commercial spheres.  The scenarios detected will become increasingly subtle, allowing innovative end-users to improve public safety by employing this exciting technology.
Chris Gomersall
Chief Executive Officer
Ipsotek Ltd.