Xherpa - Heavy Payload Drone
Rugged, all-weather Heavy Payload Drone, Military Logistics Drone designed for Indian Army to transport essential goods in harsh environment and at very high altitudes.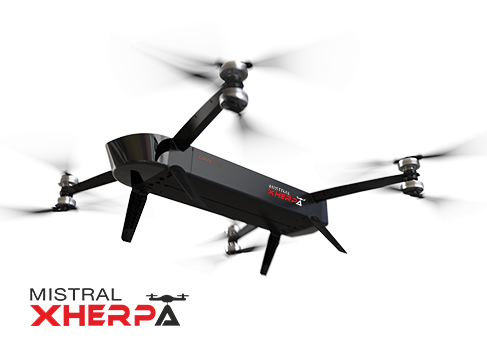 Overview
One of the critical challenges of the Indian Army across Northern and Eastern borders is the transportation of essential goods like fuel, ammunition, food, and medical kits from Base Depots to the forward posts at very high altitudes. In many situations, transporting a 30-50 kg cargo may take up to a full day. The Mistral Xherpa Heavy Payload Drone is a rugged, all-weather Military Logistics drone designed to operate in harsh environments and at very high altitudes. The Mistral Xherpa Heavy Payload Drone has completed two successful trials at very high altitudes across the Northern Borders of India.
Mistral Xherpa Heavy Payload Drone
The Mistral Xherpa Heavy Payload Drone can be deployed for military operations at altitudes from 5,000 to 20,000 feet. The rugged drone can withstand , making it ideal for windy mountainous terrains with high snowfall. The Heavy Payload Military Logistics Drone offers high efficiency in high altitudes and windy terrains facilitating transportation of essential goods, saving time, and reducing risk to human lives.
With high endurance, long-range capabilities and multiple payload options, the Mistral Xherpa Heavy Payload Drone is an ideal solution for the high-altitude transportation needs of the Indian Army. The Military Logistics drone is designed with 6061-aluminum chassis which acts as a heatsink, ensuring optimal temperature during prolonged missions. The arms, rotors, and other parts of the Mistral Xherpa heavy payload drone are manufactured using the latest CNC technology and assure superior strength. Adhering to the safety design and fail-safe system, Mistral's Military Logistics drone employs coaxial rotors with 4 arms and 8 rotors for best flight efficiency. The Military Logistics drone comes with two standard payload options: an under-belly payload and a hanging payload. The under-belly payload is fixed to the drone and has a fixed dimension. The hanging payload is connected to a cargo hook, a device suspended below a drone, via a sling for quick release of the payload during flight. The State-of-the-art multi-axial stabilization of the Military Logistics drone enables it to fly super smooth even in strong winds and gusts.
Military Logistics Drone – GCS
The Ground Control Station (GCS) of Xherpa heavy payload drone is a heavy-duty computer built inside a rugged case, running the GCS software with all necessary video and telemetry data links. The Military Logistics drone is available in single and dual display configurations. It can be placed on the ground, on a portable table, or integrated with foldable legs. A Portable GCS unit in HOTAS (Hands on Throttle and Stick) layout is also offered on request.
Know more about more tactical drone solutions from Mistral. To know more about Mistral's heavy payload drone and military logistics drone, write to us.
Features
Payload of up to 50 kg
Operational altitude of up to 20,000 feet AMSL
Range up to 20km (line of sight)
Flight time of 20 - 25 minutes
Cruise at 50 - 60 kmph
Manual & autonomous operational modes
MTOW (Max. Take-off weight): 250 kg
Number of motors: 4-8
Battery: Li-Ion Battery
Charge time: Approx. 60 min
Operating temperature: -20 °C to 50 °C