Integrated Command and Control
In a rapidly evolving world, on-field resources require advanced connectivity and modern Communication, Command and Control solutions to efficiently manage their missions. The Integrated Command and Control System from Mistral is a mission-critical communication platform designed to support multiple connection standards and devices.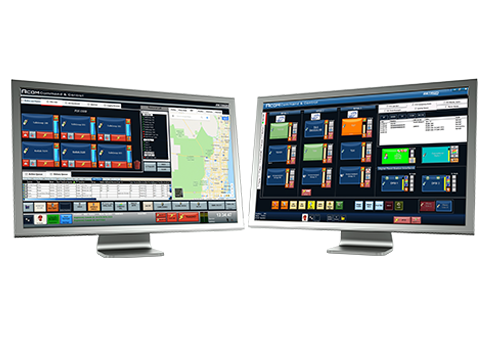 Integrated Command and Control System
The Integrated Command and Control System from Mistral is designed to meet the complex requirements of mission-critical communication for Law Enforcement and Security Agencies. With advanced telephony capabilities and radio integration, the Integrated Command and Control System delivers a robust, command, control and communication platform with unmatched operational efficiency. The command and control system offers an extensive set of cutting-edge features, enterprise-class server architecture and end-to-end resiliency. With mobile devices, IoT and social channels becoming mainstream, field resources are now able to trace and track more information than ever before. The integrated command and control solution offered by Mistral is a futuristic formula designed to support multiple connection standards, manufacturers, and devices.
Integrated Command and Control System Features
The Integrated Command and Control System brings both voice and data together, enabling operators to efficiently coordinate with field personnel mission-critical communication,  generating real-time situational awareness and response plans. The modular system is designed to scale from a few consoles to hundreds, with support for more interfaces than any other system currently available in the market. The Integrated Command and Control System supports a broad range of telephony technologies, including SIP, ISDN, and QSig; signaling protocols and radio protocols; standards-based radio interfaces such as Project 25, TETRA, DMR, and NXDN; and interfaces to conventional and proprietary systems and technologies; making it one of the most complete mission-critical communication solutions.
The User Interface (UI) of the Command and Control System is designed to provide the look, feel and expediency a user needs. The command platform offers scalable configurations to easily adapt to any operational changes. With its enterprise-class server architecture and high capacity, the Integrated Command and Control system can be updated and expanded without requiring additional hardware.
The Powerful Call Management feature of the Integrated Command and Control System from Mistral allows the users to determine how calls are viewed, prioritized, and handled. The Smart Audio Routing in the command console allows the user to direct the audio input source to any audio output. Audio levels can be automatically adjusted based on the operator's console selections, which is pre-configured to the needs of the control room, without making expensive hard-coded software changes. Profile-based login provides users with the flexibility to log in to any number of systems, which is critical during disaster-recovery operations or situations where multiple systems are deployed. The Profiles reflect available resources, dispatch functions, duty shifts and schedules, supervisory and maintenance roles, and training exercise simulations.
Mission-critical Communication
The Integrated Command and Control System from Mistral offers full end-to-end encryption to ensure the communication is secure, making it ideal for mission-critical communication. The DES and AES encryption are integral features of the system interfaces, which offers an uncompromised, mission-critical communication platform. The system also offers an enhanced Broadband Push-To-Talk feature for increased productivity. The Command and Control System platform not only provides the ability to integrate with Commercial Broadband Push-to-Talk services but also connects to existing LMR networks. With built-in IP-diagnostic tools and web-based system-management capabilities, the command and control platform delivers optimal performance. The Integrated Command and Control solution is an ideal solution for Public Safety, Transportation (Rail, aviation, traffic, maritime, and port operations), Public Utilities, Energy-distribution Operations, Government Agencies, Border Operations, Security Operations, Mining, Oil and Gas Platforms, and Refineries among others.
To know more about Mistral's Integrated Command and Control System, other mission-critical communication solutions and for pricing information, please write to us hs@mistralsolutions.com or submit a query here.
Features
Scales from a few consoles to hundreds
Supports centralized, distributed and mobile-based dispatching
Delivers high-bandwidth efficiency in an end-to-end IP-based system
Includes an intuitive, feature-rich, highly customizable graphical user interface (GUI)
Provides system-wide call-management capabilities and call management reporting
Profile-based login
Interoperates with legacy, modern and emerging radio and telephone technologies
Supports a variety of open-standards interfaces including P25 (CSSI, DFSI) and DMR
Can interface with TETRA systems, or to TETRA PEI connected donor radios
Capable of AES and DES encryption (including FIPS 140-2, Key Management and Key Fill Device support)
Web-based configuration tools
Script-based audio routing algorithms
Simple Network Management Protocol (SNMP) for real-time alarm reporting
Includes SIP-based voice recording with metadata
Interfaces to third-party applications such as CAD and AVL for call-setup and location services.