AUTOMOTIVE ELECTRONICS
Design & development of futuristic embedded sub-systems for ADAS, In-vehicle Infotainment and Telematics Applications
AUTOMOTIVE ELECTRONICS AND INFOTAINMENT
Over the past couple of decades, the automotive electronics industry has been witnessing a series of transformation by constantly adopting more and more digital technologies. Currently, Automotive Electronics are expected to constitute near a third of the total cost of the entire car. Electronics designed for Automotive applications and in-vehicle infotainment are subjected to stringent environmental tests as they are exposed to extreme temperature ranges and driving conditions. Electronic systems have augmented and replaced mechanical and electro-mechanical systems. From Digital Radio and Bluetooth enabled Hands-free communication, the Automotive Electronics Industry has been steadily moving towards advanced in-vehicle infotainment and ADAS solutions like integrated cockpit, in-vehicle connectivity, driver monitoring systems, voice-based controls, automatic parking, adaptive cruise control, navigation systems, pedestrian detection/avoidance, lane departure warning/correction, traffic sign recognition, automatic emergency braking, blind spot detection, etc.
In-vehicle Infotainment platforms not only provide multimedia, audio and video entertainment, climate control functions, and smartphone integration but also include best-in-class navigation solutions. Today, these real-time in-vehicle infotainment devices are finding its way to trains, trolley buses, trams, buses, boats, and aircrafts among others. Innovative in-vehicle infotainment and in-flight entertainment solutions keep the users connected, informed and entertained while on the move.
Automotive Electronics Design Services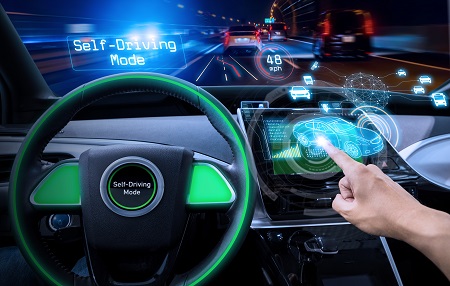 Like any other industry, the Automotive Electronics industry is also rapidly evolving around User Experience. Customers expect a highly integrated communication and infotainment environment in vehicles that connects all their personal smart devices and gadgets with the vehicle electronics, to provide a seamless user experience. Mistral has over 25 years of experience in the design and development of automotive electronics solutions. We provide cutting-edge in-vehicle electronics for applications like ADAS, in-vehicle infotainment, rear-seat entertainment, telematics, navigation, Battery Management for electric vehicles and more. Our expertise on mmWave Automotive Radars and Sensor Fusion enables us build next-gen automotive ADAS systems that features latest Processors, DSPs, connectivity and communication technologies.
Mistral's core expertise in automotive electronics solutions and automotive electronics design services includes hardware design, system software, middleware development, integration of third-party applications, compliance trials and beta testing.
Automotive Electronics – In-vehicle Infotainment
Mistral's offers design and development services for high-quality, next-generation, feature-rich in-flight and in-vehicle infotainment systems that employ high-performance SOCs, DSPs and advanced connectivity features while ensuring safety and compliance with ASIL and other global standards. Mistral has extensive experience in working with leading Automotive OEMs and TIER-1 suppliers designing futuristic infotainment systems.
Our solutions feature hands-free communication, digital radio, Android Auto and Car Play integration, seat-back display, UI/UX Apps for touch systems, ADAS subsystems, remote and on-board diagnostics and more. Mistral's extensive experience in working with quick time-to-market demands and increasing customer expectations, makes it the partner of choice for the development of high performance, embedded automotive electronics solutions.
Our Automotive Electronics Design Services team has immense knowledge on the latest hardware and software technologies. Our expertise in the domain and partnership with leading SOC manufacturers enable us develop sophisticated electronics sub-systems and infotainment solutions that assure a safe and comfortable driving experience.
Automotive Electronics Solutions for ADAS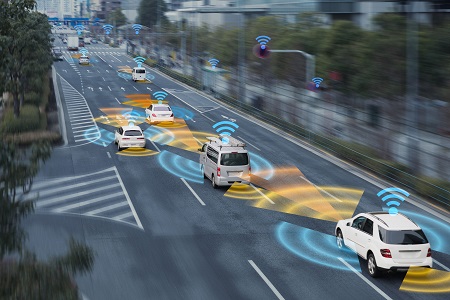 Advanced Driver Assistant Systems [ADAS] and Driver Monitoring Systems [DMS] play important roles in Passenger safety. Advanced Driver Assistance Systems (ADAS) take some of the decision-making processes away from the humans. Various statistics on vehicle accidents indicate a high ratio of error in driver judgment. The goal of ADAS is to aid drivers to drive more efficiently and safely. The increasing density of vehicles on road and demand for safety has pushed Automotive OEMs to build intelligent Automotive Electronics solutions.
Automotive Solutions
In addition to Automotive Electronics Design Services and in-vehicle Infotainment, Mistral offers a range of advanced Automotive Electronics solutions like mmWave Radar Modules and the AI based Sensor Fusion platforms. Built around TI's AWR1843 SoC and NVIDIA Jetson Xavier NX SoM, the Sensor Fusion platforms integrate Radars, camera and advanced ADAS & Driver monitoring applications.
Mistral has been in the forefront aiding leading OEMs and Tier 1 automotive suppliers to build revolutionary automotive electronics solutions. Our automotive electronic solutions and in-vehicle infotainment designs have been adapted and integrated by leading automotive companies in Europe, USA and Australia.
Click here to read a blog on "Automotive and Infotainment – An Overview"