Automotive and Infotainment Technologies – An Overview
Automotive and Infotainment or In-vehicle Infotainment (IVI) is the integration of hardware and software system which delivers information and entertainment to driver & passengers through various on-board electronics and applications. Over the last decade, there has been a massive growth in the field of "Automotive Infotainment" which is expected pursue between 2019 to 2028.
Automotive and Infotainment systems can be termed as high-end radios that are far more more integrated. Automotive and Infotainment systems bring together telematics, information and driver-assistance features to create a unified in-vehicle experience. The primary driver for this integration of Automotive Infotainment is the need for an improved driver experience, with both safety and cost playing a crucial part. The evolution in customer experiences with personal devices and gadgets are shaping expectations for automotive and infotainment systems making it a fast-evolving segment of the automotive industry. In the current day scenario, in Automotive and Infotainment applications consumers expect entertainment, connectivity and seamless access information and content from a variety of sources. This increase in in-vehicle or Automotive Infotainment solutions is fueled by an increase in customers' focus on comfort and the growing trends towards electric vehicles, driver assistance, and autonomous cars.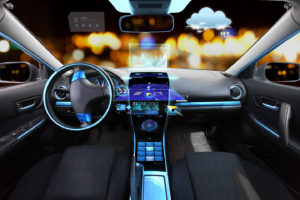 Gone are the days when buying a car with only a music player was lavish. The time for automotive and infotainment has changed! According to Markets and Markets, the Automotive and infotainment market is projected to reach USD 30.47 Billion by 2022, at a CAGR of 11.79%, whereas Mordor Intelligence predicts that automotive infotainment system market is expected to register a CAGR of 12.29%, during the forecast period, 2019-2024.
Today, the automotive and infotainment technology is evolving rapidly, and everything is getting automated. Vehicles with enhanced safety, security, comfort, performance, availability and automotive infotainment systems are in high demand. Users are enthusiastic to own a vehicle with highly integrated communication, information, and entertainment systems (Automotive and infotainment systems) that connect all their smart devices and gadgets and provide them a seamless experience. The cockpit of an Automotive Infotainment system requires advanced processing capabilities to meet consumer demands for connectivity, safety, and future mobility.
What is Automotive and Infotainment ?
Automotive and Infotainment, also known as In-vehicle Infotainment (IVI) has become an important part of vehicle electronics. Automotive infotainment systems are a combined hardware and software solution that delivers streaming audio and video within the vehicle. It is the integration of hardware and software system which delivers information and entertainment to the driver and passengers through various on-board electronics and applications.  The simple automotive and infotainment system which originated a few decades ago incorporated a car audio system consisting of FM Radio and CD player which could be operated using a simple dashboard knob. As technology evolved, Automotive and infotainment systems in vehicles were equipped with dashboard cluster, display and touchscreen, text-to-speech and voice recognition to provide drivers on-board with exclusive user experience.
The latest in-vehicle infotainment or Automotive and infotainment systems also provide audio control and call pick-up functionality on the steering wheel ensuring smoother operation and a minimal distraction to the drivers. Automotive and infotainment systems are built with advanced technologies and features such as automotive navigation systems, video, and audio players, USB and Bluetooth connectivity, Smartphone integration, etc.to enhance the vehicle's communication and connectivity. Automotive infotainment systems are incorporated with innovative and high-quality infotainment technologies and is sophisticated design to provide advanced solutions such as vehicle tracking, safety information, seamless connectivity, hands-free communication, media accessibility and enhance the in-cabin experience to the users.
Key features of Automotive Infotainment Systems
Nowadays, SoC manufacturers are focusing on designing high-performance, low-power processors dedicated for automotive infotainment applications. These advanced processors are designed to display the information on multiple screens such as HUD, Rear-view mirror, seat-back displays, instrument cluster, etc. and provide an enhanced in-vehicle experience to driver and passengers. These latest DSPs and ARM combined SoCs enables the integration of all the above in-vehicle infotainment components along with driver assistance systems to provide a connected environment.
High-Resolution Touch Screen Display Monitors
The head unit of any automotive and infotainment system is its "Control System Dashboard." The touchscreen features a compact display with large buttons and icons for safe and ease of operation during driving. The menu in these automotive and infotainment systems comprise of multimedia icons to control and use various features such as radio, map, Bluetooth hands-free facility, music streaming, voice control, weather change, etc.
Voice recognition allows the driver to operate a car's functions via voice command. By speaking instructions, the driver can control features such as navigation, radio, phone media, call, and even air condition temperature, instead of using the physical buttons on the dashboard. Voice recognition in Automotive Infotainment systems are being increasingly utilized in order to boost convenience and safety for the driver and passengers.
With voice commands, the driver will spend less time fiddling with buttons or touchscreens, and instead, both hands can be kept on the wheel and eyes kept on the road. Most of the automotive infotainment enabled vehicles have the capability to learn the driver's voice over time and understand phrases and words that make it easier to use, while others are being developed to be able to respond to requests such as 'I want to re-fuel' – it'll then give you your options as to where you'll be able to find one nearby fuel station.
The car seat-back display also known as the rear-seat display is designed to entertain passengers sitting in the rear. The smart display screens offer an easy way for passengers to connect to the AV devices without any hassle. The seat-back display unit of a automotive infotainment system allows passengers to enjoy music, shows, games and even movies in high resolution via external memory devices or real-time streaming. In addition to offering audio and video entertainment, Automotive and infotainment systems also offer rear-seat entertainment displays which support email and Internet connectivity. They can also provide information regarding the vehicle, its navigation, and connectivity among others.
Integrating smartphones to cars or any other vehicle via the Automotive and Infotainment system provides a safe, smart and convenient way to the drivers to use their smartphones on-the-go without any distraction. Pairing your smartphone with the automotive infotainment system, either using hand free Bluetooth connectivity, USB or Wi-Fi, enables you to easily and conveniently access various features of the phone via the dashboard of the car. It allows the driver to make or receive calls, send a voice message, read texts, play music, radio, stream data for navigation, play podcasts, and much more.
One of the key features of a smartphone integrated solution is that it provides hands-free operations typically through voice recognition and text-to-speech interfaces of the smartphone. The Bluetooth paired smartphone with the automotive infotainment system displays the phone's contact list, messages, appointment, notifications, music details, and other information on the dashboard screen for easy access and seamless user experience.
Automotive and Infotainment – Navigation System
The navigation system in automobiles uses GPS data to inform or alert the driver about traffic, congestion, collision, etc. Combining the use of interactive onboard maps and GPS data, the vehicle can plot the best routes to a given destination. The navigation system is also capable of accurately tracking the present place or live position of the vehicle to provide the information to the driver on-screen, without any distractions. This navigation system feature enhances the safety of the driver and passengers, and eventually reduces the stress level while driving.
After-market  Automotive Infotainment / In-vehicle Infotainment Systems
The biggest factor that separates the cars of today from previous cars is the integration of electronics, in-vehicle infotainment system and connectivity in almost every aspect. Over time, the car cockpit has evolved from integrating an after-market, pluggable audio system as an option to advanced in-built automotive and infotainment systems providing an enhanced experience to the driver. Large analog tuners and buttons have been replaced by touch screens and elegant soft-touch pads. The audio and video controls are elegantly integrated on steering wheels to provide superior user experience and minimize safety-related issues.
Conclusion
The entire automotive industry is rapidly evolving and adapting various innovative and advanced technologies – Internet of Things, AI, and Robotics to deliver better solutions to the consumers. Automotive Infotainment systems are built around high-performance multi-core SoCs and embedded software to enable multiple applications on a single device. Automotive and Infotainment or in-vehicle infotainment manufacturers are now focusing on providing "connected cars" that leverage IoT and AI technologies which bring in a whole new level of connectivity and intelligence to the in-vehicle infotainment systems. With the advent of Voice assistant devices like Siri and Alexa, automotive manufacturers and automotive infotainment ODMs are providing integration with these devices to provide consumers with a continuous seamless transition from home to car to office. Mistral is an embedded product design company providing cutting-edge design services for building In-vehicle Infotainment solutions to leading automotive companies. By combining creativity, technical expertise and refined processes, Mistral offers sophisticated embedded hardware and software design services that integrate audio, video, wireless technologies, DSP Algorithms and HMI, building intelligent, connected Automotive Infotainment solutions.