Kite - Tethered Drone System
An advanced Tethered Drone System for Defense and Homeland Security applications that provides an uninterrupted secured Power and Communication link to the Drone over a spool of wire.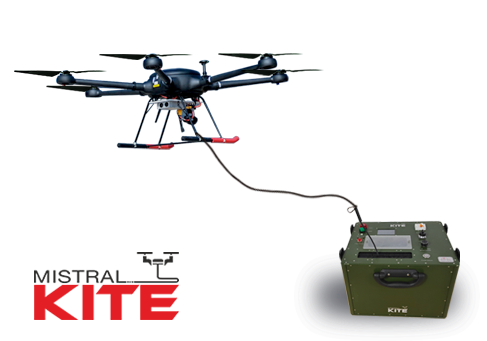 OVERVIEW
Drones are finding a range of applications in various Defense and Homeland Security applications, however, many of these applications confront challenges due to the shorter flight duration. The best drones available in the market may have an operational duration of 60 minutes on a single charge. Border security forces, Coast Guard and many other Security Agencies are in need of a system that can fly or hover continuously for hours and surveil a defined area. Here's the solution – Mistral Kite, a Tethered Drone System that provides an uninterrupted and secured Power and Communication link to the Drone over a fibre optic wire.
Mistral Kite is an advanced tethered drone system provides power and a secured communication link to the Drone or UAV, over a spool of wire. Mistral Kite tethered drone system is an ideal solution for applications that require longer flight time – typically above 60 minutes and a limited operational area. The tethered drone system comes with a tether station that can operate at a height of up to 120m for longer duration.
Kite – Tethered Drone
Mistral Kite comes with a rugged Hexa-rotor drone featuring a light-weight carbon fibre body of superior strength, which can operate continuously for longer duraion. The drone is designed to operate in high-altitude terrains (up to 3000m above Mean Sea Level). The drone offers unmatched flight stability and supports a payload of up to 3 kg. The tethered drone has a modular architecture and can be launched from confined spaces. The drone can cover surveillance of a large area as big as two soccer fields. The drone features rugged, efficient quick detach arms and undercarriage making it convenient to transport, store and deploy. It supports a take-off weight of up to 24kg at mean sea level. The drone has built-in status monitoring, health checks, and fail-safe process to augment the operational capabilities.
Tethered Drone System
The tether system supports an operating height of up to 120 meters, which is customizable to suit specific applications. The system can be powered using Raw Power (220V/15A) or a Generator and it supplies power to the drone and its payloads. The tether system includes an industrial/military grade high-power UPS, to ensure power back up in the event of an unexpected failure in primary power sources. Mitral Kite Tethered Drone System comes with a smart power management and an automatic tether winding mechanism. The integrated global navigation satellite system (GNSS) enables the ground station to maintain the flying ceiling and position of the drone even in harsh weather conditions.
Mistral Kite Tethered Drone System is an ideal platform for Military ISR (Intelligence, Surveillance, and Reconnaissance) an Coast Guard for continuous Surveillance of a defined area. Some of the advantages of Mistral Kite are; real-time situational awareness through continuous surveillance, secured data communication over fibre optic drone tether, uninterrupted ultra-high-resolution data transfer, can quickly establish temporary long-range communication networks for cellular, radio, and broadband internet transmissions and can be equipped with a variety of mission-specific payloads like infrared and high-definition video cameras for real-time streaming, radio repeaters, and environmental sensors.
To know more about Mistral Kite Tethered Drone System and live Demo, please write to us! Read more about Mistral's Tactical Drones!
Features
Vehicle Empty Weight: <20kg
Maximum Payload: 3kg
Wind Resistance: 36km/h
Vehicle Type: Hexa-rotor
Dimension: 1620mm wheelbase
Battery: Li-Polymer/Tethered
Max Launch Altitude: 3000m AMSL
Military Grade Tether System Chassis
Light wire spool: 120m
Power: 3500W
Tether System Weight: 30kg
Tether System Size: 50 x 40 x 35 cm
Cable Weight: 1.8kg
Output Voltage of Air Unit: 12V
Voltage Input: 220Vac @ 50Hz