Video Analytics and Synopsis Software
Powerful, agile, easy to use intelligent video summarization and analytics software that helps review hours of video within minutes, providing rapid alerts for user-defined people or objects apart from notifications of critical events. Using this video summarization and Face Recognition Software, a 24-hours of recorded video can be reviewed in as short as 30 minutes.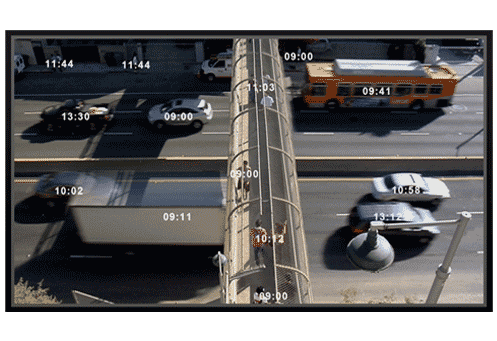 OVERVIEW
The Video Analytics Software offered by Mistral is a highly refined video content analytics engine from Briefcam that fulfills the global need of surveillance to review a long video footage, investigate and identify incidents of interest and initiate quick action, as needed. With a unique fusion of Deep Learning and Video Synopsis, the solution is redefining video surveillance and Facial Recognition by leading Law Enforcement agencies and major enterprises globally.
The Video Investigation Tool includes facial recognition software features equipped to identifies and extracts scenes using multiple intelligent filters such as objects, people, vehicles, animals, size, colour, speed, path, direction, dwell time and more, which helps in quick video summarization of a long footage. The Video Investigation software has powerful features to extract, segregate and classify between independent objects, especially in frames that are poorly illuminated, contain small or distant objects, and/or background noise.
Built around an award-winning image processing technology from Briefcam, this Video Analytics and Synopsis Tool can filter & summarize an hour of video down to one minute of review time. This offers video synopsis for immediate, actionable information from the video to enable quick, informed decisions for security and safety applications.
The Powerful and intelligent Video Analytics Software transforms video surveillance into actionable intelligence, by understanding the context of the entire scene, detect, track, extract, and classify every object and create a structured database of information out of the unstructured video data.
The Video Summarization Software is ideal for law enforcement, public safety organizations, security investigation, crime investigation, airport and critical infrastructure security, incident analysis, transportation agencies, healthcare and educational institutions, property and retail security, among others.
The tool also provides seamless integration with complementing technologies like VMS, PSIM, C&C, and Cloud-based Video Surveillance Solutions.
FEATURES
Review hours of video in minutes or seconds
Accepts videos from a wide range of sources and formats
Smart Filtering to view only objects/scenes of selected attribute
Thumbnail display of events based on search attribute
Close-Up Clips - A highly compressed instant preview of an event with automatic zoom-in
Pattern Overlays to understand dwell patterns, common paths, and activity levels
Smart Search & Filter - Appearance, Person, Gender, Vehicle Type, Animal, Bag, Colour, Size, Speed, Path, etc.
Tracking of a selected object/vehicle/person across multiple cameras
Case Management and Team Collaboration with bookmarks and annotations
One-click event selection that indexes back to the original video from Thumbnails or Video Synopsis
Real-time Alerts based on Pre-configured rules
Smart dash board -Quantitative Research Reports based on video analytic metadata and the embedded BI platform
Active Directory SSO - Robust user authentication and simplified password management
SUBSCRIBE TO OUR NEWSLETTER