60GHz Industrial Radar on Module (RoM)
Based on TI's IWR6843 AoP, the Industrial Radar on Module from Mistral is an ultra-compact, USB powered, integrated 60GHz Antenna on Package Radar Module for Industrial Automation applications.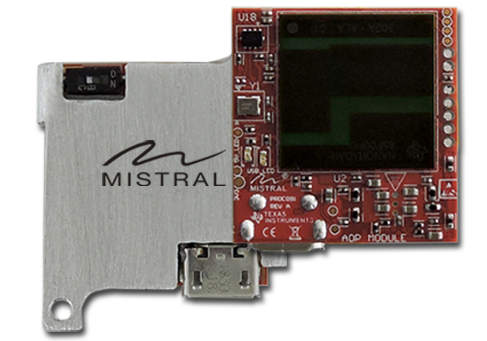 OVERVIEW
Based on Texas Instruments IWR6843 AoP Integrated Single Chip mmWave Sensor with FMCW Radar technology, the production-ready 60GHz Industrial Radar on Module [RoM] from Mistral is designed for low power, self-calibrating, ultra-accurate radar systems in an industrial environment.
With a small and optimized footprint, the Industrial RoM [IRoM] operates at a frequency band of 60 – 64 GHz. The Radar on Module measures 23×22 mm, and is one of the most powerful in its category currently in market and comes with advanced features such as FFT accelerator, configurable chirp and self-calibration among others. The RoM is powered via USB in standalone mode and delivers processed point cloud radar data. The RoM comes with SDK 2.1, along with object detection and people counting demo applications.
The Radar on Module is ideal for applications such as Robotics, Industrial Safe Zone & Free Space Monitoring, Fluid Level Monitoring, People Counting, Occupancy Detection, Building Automation, Security, Parking Management and Traffic Management.
TECHNICAL SPECIFICATIONS
Based on Texas Instrument's IWR6843 Antenna on Package (AoP) chipset
SOP configuration for standalone boot up & programming
On board QSPI flash
UART communication over USB for Configuration and Radar Data
Self-calibrating
Advanced Signal Processing
USB powered
Mechanical Enclosure to facilitate mounting and acts as a heat sink
SDK 2.1 from Texas Instrument's with demo applications
Dimension: 23mm x 22 mm
SUBSCRIBE TO OUR NEWSLETTER