WEARABLE ELECTRONICS
Small Form-factor, Power-efficient, Multi-board Designs
for a Range of Futuristic Wearable Applications
WEARABLE ELECTRONICS
The wearable electronics market is currently dominated by health, fitness and "quantified self" wearable devices like fitness bands and trackers for continuous health monitoring and fitness tracking. The need for high-performance power-efficient fitness tracking device designs and health monitoring device designs that efficaciously monitor heart rate, blood Oxygen levels and other vital health signals have made a lot of headway with next-generation gadgets. These wearable electronics solutions integrates high-precision sensors and lightweight material that contact the skin to provide accurate measurements.
Wearable Electronics Solutions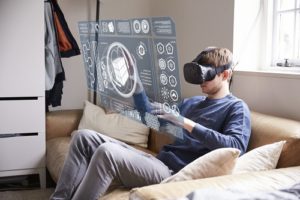 The more recent trends in Wearable Electronics include smart watches, wearable AV glasses, hearables, head mounted computers and smart clothing that are finding a wide range of applications in industrial, healthcare, support & maintenance and gaming. Forming part of the ubiquitous Internet of Things (IoT), wearable electronics solutions allow display and sharing of information from and to a multitude of internet-connected data streams, improving systems and processes, while reducing costs and risks. Mistral has been among the pioneer design houses in India offering wearable electronics design services and wearable app development. From fitness tracking device designs to wearable electronic device designs like wearable headset computers and AR/VR glasses, we have enabled several product developers with futuristic wearable electronics solutions that feature smart hands-free operation and voice-based controls.
Wearable Electronics Design Services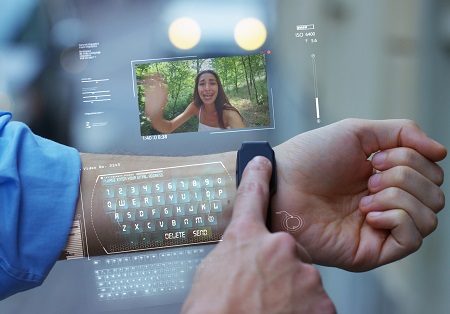 Mistral has over 15 years of experience designing head-mounted wearable electronics solutions such as wearable accessories for Android phones and Windows MiniPCs, headset computers running Android, AR/VR Glasses for Industrial Applications, etc. Our designs feature stereoscopic cameras, sensors for Heartrate, Pulse Oximeter, GSR, Accelerometer, Gyro, Temperature, Humidity, Compass, Magnetometer, 9-axis MEMS and 6dof Inertial sensor among others. Our expertise in Wearable App development, wearable antenna design and integration aids us offer wearable electronic device designs with wireless connectivity features like WiFi, Bluetooth, BLE, NFC, etc. Our expert team of engineers have spent considerable time and effort in the R&D of wearable electronics device designs and Wearable electronics app development.
Our team understands the functional, technological and business needs that arise during various phases of the design and development of a wearable electronic device. The team is equipped to address any need of a design including small-form factor, miniaturization, integration of multiple sensors, thermal management, extended battery life, ruggedness, design ergonomics, UI/UX and time-to-market.
Read a Blog on Wearables Electronics – Applications, Challenges and Risks that covers a wide range of wearable electronic device designs.