Portable Barcode Scanner for Visually Impaired
Introduction
This case study showcases Mistral's expertise in providing product design services in the assistive technology segment. Mistral was approached by a leading original device manufacturer (ODM) in the US providing high-tech products for people with visual impairments, to develop a portable "all-in-one" talking barcode scanner. Mistral's concept-to-deployment services helped in realizing the customer's idea of the product and bringing it quickly-to-market.
The Customer
The customer is a company providing high-tech assistive technology products aimed at solving problems for those with visual impairments. The company is based on the single premise: To provide customers with greater independence through technology.
The Requirement
The customer approached Mistral to design and develop a portable "all-inone" talking barcode scanner, that will become the "eye" for the visually impaired. This lightweight product should help visually impaired people in identifying objects through its barcode, offer face/object/currency recognition and also live video streaming to remote locations through Skype connectivity. Additionally, users should be able to listen to music. The requirement was to design and develop a portable "all-in-one" talking barcode scanner
Solution Provided
Mistral developed the complete product from design to production, including hardware design, software development – firmware, middleware, embedded applications; product qualification and production support. The product concept was shared by the customer. Mistral designed the hardware and developed the Linux BSP for the hardware. The Mistral team also developed the complete keypad-based user interface application for controlling and configuring the entire product including camera, WLAN and Bluetooth. The team also ported and integrated third party interfaces, such as the Text-toSpeech engine, Skype, Image Processing engines for currency and color identification, Optical Character Recognition (OCR), camera sensors and barcode readers.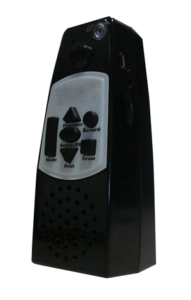 The product is based on TI's AM/DM37x Sitara Microprocessor. The initial design and development was done around the AM/DM37x EVM from Mistral. Mistral used the development platform as a reference design, customized it to a small form-factor prototype and developed the solution for this product requirement.
The team at Mistral assessed the product through independent verification and validation across different stages of the product development including pre-certification tests and FCC Class B pre-qualification tests.