Portable Desktop Magnifier
Introduction
This case study showcases Mistral's expertise in providing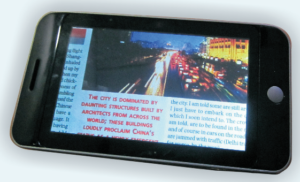 product design services in the consumer electronics market. Mistral was approached by a leading Original Device Manufacturer (ODM) that specializes in providing highly intuitive and intelligent technology solutions for people with visual impairments. Mistral's concept-to deployment design and engineering services helped realise the customer's vision of the product and bring it quickly to the market.
The Customer
The customer is a company providing technology enabled products that aims to empower people with visual impairment. The company's key aim is to provide customers with greater independence through technology.
The Requirement
The customer approached Mistral to design, implement and develop the portable (handheld) entity of the Portable Desktop Magnifier. In addition to other smart functionalities like location provision using GPS and Internet access using Wi-Fi, the handheld unit would be used to capture images that need magnification when the user is on the move. It can then be docked to a custom desktop, (developed by the customer) to provide magnification. On docking the handheld unit to the desktop, the handheld unit would drive the HDMI display of the desktop, providing the user with a high-resolution display of the data captured using the handheld unit.
Solution Provided
Mistral has provided design support during the entire development cycle of the product: from design to production. This includes hardware design, porting of Linux and Android for the hardware, middleware development, product qualification and production support.
The product is based on Texas Instruments OMAP4460 SoC. The initial design and development were done around a reference platform, the OMAP4460 Panda board. Mistral used this development platform as a reference design, customized and designed a small form-factor prototype and developed the entire solution to meet this requirement.
The team at Mistral assessed the product through independent verification and validation across different stages of the product development including pre-certification tests and FCC Class B pre-qualification tests. The Mistral engineering team also integrated third-party software to support the onboard camera interfaces on the handheld unit.
Key Achievements
Obtaining a battery life of 100 hours with the handheld device in standby mode and 4 hours with the handheld in continuous operational mode (with both cameras active) highlights the effectiveness of the power management
Cleared the EMI/EMC tests specified by FCC in the first design run
Switching off the display from LCD on the handheld to the 1080p HDMI on the desktop when the handheld device is docked to the desktop
Integration of multiple Rigid, Flexi and Rigi-flex PCBs into the design.
Read the full case study to know more about the design challenges and benefits of the Portable Desktop Magnifier.