Sensor Fusion Kit
An integrated, easy to use Camera and mmWave RADAR sensor platform based on Texas Instruments TDA3 SoC and AWR1443 FMCW RADAR sensor for cutting-edge automotive ADAS applications.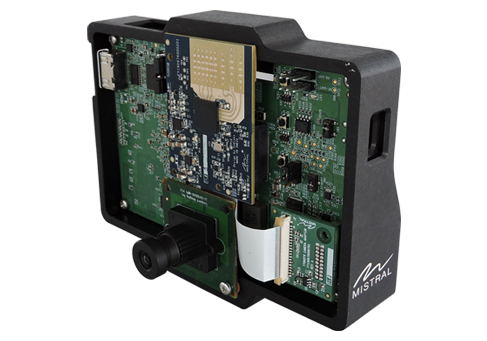 Overview
The Sensor Fusion Kit from Mistral is an integrated, easy-to-use Camera and mmWave RADAR sensor platform providing high functionality for automotive ADAS applications.
Based on Texas Instruments SoC for Vision Analytics and ultra-high-resolution single chip 77GHz mmWave RADAR sensors (TDA3 SoC and AWR1443), the integrated Camera and mmWave RADAR sensor platform provides RADAR Fusion Processing, offering the accuracy and redundancy required for Automotive safety applications.
The Sensor Fusion Kit (Camera Vision + mmWave RADAR on Module) is uniquely designed to provide extreme range precision along with superior imaging capabilities. The platform provides advanced ADAS experience using Vision Analytics and RADAR data fusion in real-time.
The Sensor Fusion Kit comprises a processor board, mmWave Radar Module and Camera Sensor Board. The Processor Board performs Object Detection, Classification, Identification and Annotates Video stream with RADAR Range data. The Camera and mmWave RADAR sensor board also provides necessary automotive and power interfaces to integrate with the end product environment. mmWave RADAR Module consists of FMCW Transceiver with Integrated PLL, Baseband ADC, R4F controller with accelerator, SPI flash, DSP etc. Camera Sensor Board comes with a CSI based 1.3M CMOS HD image sensor supporting upto 60 fps. The Camera and mmWave RADAR sensor complement each other for object identification, range, velocity and elevation parameters.
The Sensor Fusion Kit includes a starterware and sample applications for common automotive radar/camera usages. It also provides debug interfaces for test and development.
The platform delivers synchronized Point Cloud and Video data. The Point cloud data consisting of object's ID, Range, Angle, Velocity and Signal strength is delivered over serial/CAN interface. The Video data includes camera stream Annotated with Objects identified, classified and RADAR range over HDMI/Ethernet interface.
The Sensor Fusion Kit is available with three antenna variants to cater to different ADAS applications, Ultra-short Range (ODS), Short Range (Three Elements) and Mid Range (Tapered Elements)
The Sensor Fusion Kit is ideal for applications such as Object Detection, Lane Tracking, Lane Detection and Departure Warning, Pedestrian Detection, Traffic Sign Recognition, Drive Recording, Automatic Emergency Braking, Adaptive Cruise Control, Forward Collision Warning, Parking Assist and more.
Specifications
Camera and mmWave RADAR sensor
TDA3 SoC with Dual-Cortex-M4 processors, fixed and floating-point TMS320C66x digital signal processor (DSP) generation cores and Vision AccelerationPac (EVE)
AWR 1443 FMCW Transceiver: 76 to 81GHz, Four Receive & Three Transmit Channels, Built-in Calibration and Self-Test, ARM® Cortex® R4F-Based Radio Control System for Object Tracking and Classification
CSI2 Camera interface
Memory: Boot – 128Mb SPI flash, 2GB DDR3 RAM support, 32GB SD card support
Peripherals: GigE and Dual CAN for external connectivity; 2 SPI Channels, 2 UARTs, I2C, GPIOs Interface Support; JTAG and 2-Lane LVDS (for RF Board) Interface for Raw ADC Data and Debug (DCA1000), HDMI
Starterware: Object Identification and Classification, Video stream annotation with Radar Range data
Power: 7 to 18V Automotive Power Input
Operating Temperature: -40 to 85 deg Celsius
Dimension: 76 x 115 mm
SUBSCRIBE TO OUR NEWSLETTER