Craneboard
Craneboard is a low cost, open source reference platform to help the developer community leverage the benefits of the AM3517 processor while leveraging a host of exciting peripherals.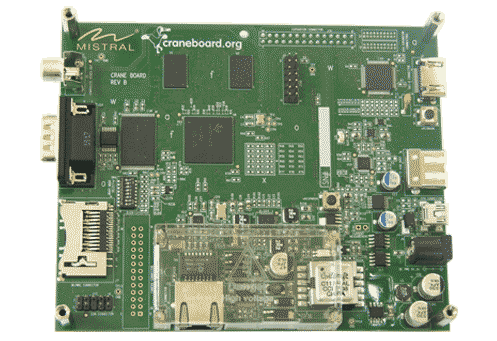 OVERVIEW
Craneboard is a hardware development platform that enables customers to develop general purpose computing and other applications based on the Sitara AM3517 ARM Cortex – A8 microprocessor device.
The AM3517 processor from TI comprises of Microprocessor Unit (MPU) sub-system based on ARM Cortex–A8 microprocessor, POWERVR SGX Graphics Accelerator sub-system for 3D graphics acceleration to support exciting Graphical User Interface options while maintaining fast and fluid transitions display and gaming effects and Display sub-system with several features for multiple concurrent image manipulation, and a programmable interface supporting a wide variety of displays.
Technical Specifications
AM3517 Sitara Processor
Power Management Device - TPS65910
256MB DDR2 and 256MB NAND Flash
SD/MMC card connector
Power Over Ethernet (POE 802.3af)
Other Interfaces: JTAG and Serial, USB, CAN, DVI-D, TV-OUT and 10/100 Ethernet
Expansion Connector: I2C2, I2C3, McBSP, UART, DSS, Camera Input, MMC/SD/SDIO
Linux Software Package
Code Sourcery Toolchain
SUBSCRIBE TO OUR NEWSLETTER