A peep into the world of Wearable Electronics
The market for the wearable electronics devices is estimated to reach $19 billion in the next 5 years. We are already seeing the biggies like Google and Samsung launching several innovative products in this space and others like Microsoft and APPLE making large investments in this segment.  We are also seeing other products like the crowd funded Pebble Smartwatch.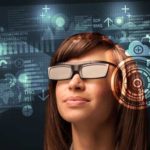 The beauty of this development is that it's just not confined to one section of the users but is all pervasive like what laptops and computers used to be for the earlier generation. While Google and Samsung are announcing consumer focused products, the likes of Motorola solutions is doing it for the Industrial segment and Microsoft is investing in this area presumably for the gaming and mobile technologies.
Rewinding a little, the first wearable computer was the calculator watch introduced in 1980 and even Bluetooth headsets of the 90's and early 2000's. But today, what has truly caught the imagination of everyone is the latest trend in the wearable technology including the smart watches, wearable computers and the hands-free, voice activated head mounted computers that can be used by a lineman checking the electrical lines on top of a 100 meter pole, to a Doctor performing a complex neurosurgery to a fire fighter or an industrial workers doing machinery repair. The sheer vastness of the usage and the range of wearable computers available are just amazing.
Expanding the scope further for professional applications like some of the usage scenarios discussed earlier, these devices will be the next generation productivity tools providing connectivity and accessibility to expert advice/virtual presence resulting in large cost and time savings.
Taking a peep at the platform used to building these Wearable electronics devices, we can see that majority of today's smart devices are built around the traditional dual or quad core SoCs which is same as today's smart phones. In addition, integration of radios like Bluetooth, WLAN and GPS is imperative for these smart devices. This along with a host of sensors like camera sensor, Proximity sensor, Ambient light sensor, Thermal sensor, Accelerometer and Gyroscope and integration of speech recognition, gesture recognition and video streaming is required to make these devices truly an extension of our physical self. Devices which are used by professionals for industrial applications also need to have the  backend integrated with a server and cloud to provide access to professional information and features like real time video chat, video streaming to remote locations etc.
Looking at these devices themselves, a question to be asked is, do we require such heavy duty, high power silicon commonly used in cell phones & tablets to be integrated in the wearable devices? It's not just the bulky batteries that can't be accommodated in the small wearable devices.  The heat and radiation emitted by traditional cellular devices also needs to be eliminated from the wearable devices. As these devices are going to be in contact with the user for extended periods of time (8 hours+), it is very important to ensure that the radiation & the heat emission is reduced to levels that will not affect our brain or other body parts. So how do we do that?
The situation is similar to when we were using processors in PCs for the first generation of embedded devices till we came up with SoCs exclusively for embedded products.  We will have to reinvent all over again!!! Just like we developed the electronic components & SoCs, middleware and software applications for mobile devices, we will have to address the wearable devices market which will open up huge opportunities for early starters with the right ideas.
*Published in EE Times India