Introduction
The impact of natural disasters has been growing by the decade. From the 1960s to 2000 the economic losses caused by disasters increased five times. This is due to our rising vulnerability caused by population increase with more people living in perilous places. While some material losses seem to be unavoidable, especially in the case of very large and infrequent events, in some cases the loss of human lives can avoided if the proper precautions and measures for advanced warning are in place.
A framework of early warning systems is composed of four phases:
Risk assessment based on historic experience and human, social, economic and environmental vulnerabilities.
Monitoring and forecasting of a possible disaster to generate accurate warnings on time
Clear understandable warnings to those at risk. Regional, national and community level communication channels must be identified in advance.
Emergency response activities once the warning has been issued
In this article we will be covering the newest technologies for setting up an Alert & Warning Systems (AWS) to provide clear, discernible warning under an emergency or disaster management program.
AWS System
An Integrated Public Alert & Warning System (AWS) is based on a Common Alerting Protocol (CAP) that interfaces with the Incident Management System (IMS) in the State or District Emergency Operations Centre (EOC). At the Alert/Warning location, through a CAP based controller, it interfaces with the communication and broadcasting system, which can be remotely controlled from the EOC via a CAP server.
CAP is an open, non-proprietary digital message format that allows a consistent warning message to be disseminated simultaneously over many different systems. This increases warning effectiveness while simplifying warning systems.
The AWS set-up consists of a CAP server that is integrated with the Incident Management System and a CAP Controller that serves as a receiver system for emergency warning and alert notification.
In most cases, the alert and warning messages are generated by the coastal control sensors, deep ocean stations or seismic centers. These messages are transmitted via satellite or the Internet to the State Emergency Operation Center (SEOC). The SEOC receives the message and identifies the priority-level and location. The SEOC houses the CAP server with the posting tool for sending the alert and warning message to the appropriate locations. The District EOCs access the CAP server posting tool via a web browser, depending on the requirement and priority.
The CAP controller is connected using GSM/CDMA data connections, for 24×7 operations. The CAP controller continuously monitors the message received from the CAP server. The CAP controller receives the alert message from SEOC, DEOC and TEOC via internet, GSM/CDMA. The remotely located CAP controllers are placed inside a shelter to protect from the harsh environment.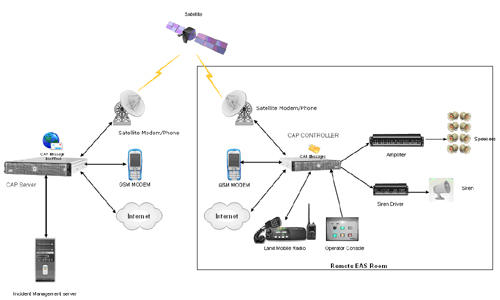 Figure 1: AWS Set-up
CAP Server
The CAP server is usually a Linux based system and provides all types of alert functionality like Sirens, Telephone Calls, PC Pop-Up Windows, and Short-Messaging-Text (SMS) for cellular phones, Pagers, Radio Broadcast and Emergency Alert System (EAS), Digital Signage, email and fax.
The CAP server is integrated with State/District's Incident Management System and the local application which each operator has on its workstation. The CAP server can communicate the CAP messages via internet, GSM, Radio, VSAT terminals to the Alert and Warning System located at remote places.
A CAP server consists of a CAP message posting tool for sending the message to the AWS. The CAP Posting tool is a browser based easy to use application that enables the operator to request activation of the tools as appropriate to the emergency situation with text messages, live voice messages and pre recorded messages to broadcast. A Text-To-Speech (TTS) engine can provide multiple languages support for posting alerts as desired.
Built-in administration tools in the CAP server help to manage users, call lists, allocation of tools, reporting, scenarios building, etc. During the Emergency, users provide information about an incident to the server and decide which warning devices should be activated. The operator can press a push button to play pre-recorded or new alert announcements.
CAP Controller
The CAP Controller or Encoder stationed in the remote EAS room is a receiver system for emergency warning and alert notification. The CAP Controller receives the CAP messages via internet, GSM, Radio, VSAT terminals from the CAP Server.
The operator can broadcast the alert message via SMS, PA system, pop-up on computer screen alerts etc. to the public about an emergency and provides detailed information and instructions to be followed.
Advantages of Alerting and Warning systems:
An integrated solution with existing Emergency Systems, enabling a single activation of the telephones, sirens, computers pop-ups (for staff & public), email and text messages.
A single point of registration to receive alerts
An open platform allow for system integration of various devices PA Systems, EAS, GIS, Radio stations, digital signage etc.
Ensure all staff and citizens receiving a uniform alert message from an integrated state-wide emergency system
Reduce training and system management overhead
Lower administrative support and maintenance cost
Conclusion
An Integrated Public Alert and Warning System is designed to provide rapid, reliable and effective communication to the public in case of major emergencies such as natural disasters. The network is designed to integrate various systems into one modern network, and also update them to take into account latest forms of communication such as cellular telephony and SMS, satellite and cable television, digital signage and the web.