Dual-node Telemetry Encoder
Microcontroller and FPGA based telemetry system that supports up to 62 electrical channels over-voltage and short circuit protection, expandable up to 256 channels, with two 1553B channels.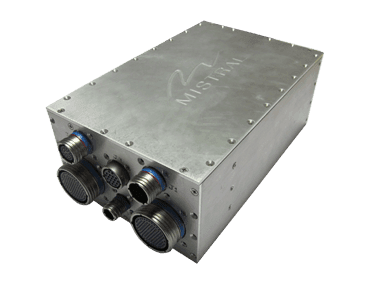 Overview
The Dual Node Telemetry Encoder from Mistral is a Microcontroller and FPGA-based Telemetry System.  Dual Node Telemetry Encoder provides end-users with the luxury of configuring two 1553B channels as per user requirements. Pulse Code Modulation (PCM) Telemetry is a way of acquiring data in one location, converting the data samples to digital form, encoding the data in a serial digital format, and transmitting it on a carrier to another location for decoding and analysis. PCM systems are less susceptible to noise than analog systems, and digital data is easier to transmit, record, decode and analyze.
Mistral has developed various rugged telemetry modules for flight/mission-critical applications, along with various decoder software, for ground station data extractions. To know more, write to us at info@mistralsolutions.com
TECHNICAL SPECIFICATIONS
Power: 28 V ±6V
Efficiency: 80 % (at full load)
Filter: EMI/EMC, as per MIL-STD-461 D/E
Supports 62 electrical channels over voltage and short circuit protection, expandable up to 256 channels
Supports 76 discrete channels
Supports 16 micron channels for temperature sensors
Supports 12-bit resolution for all sensor and electrical channels
Supports Digital filter for all sensor and electrical channels
Transient protection provided on all sensor and electrical channels
Supports two 1553B channel operating in RT/MT mode and transformer coupled
IRIG-106 compliant PCM
Full software programmable
Support Bi-phase and NRZL output
Mil-Grade Aluminum - 6061, conductive chromatized enclosure
SUBSCRIBE TO OUR NEWSLETTER