Advanced Highway Patrol Vehicles with Live Video streaming and GPS Tracking
The Highway Patrol Vehicles are custom-designed, fully equipped, robust vehicles, outfitted with specialized surveillance, communication & monitoring equipment for emergency response on highways. These first responder vehicles are designed for patrolling, traffic management and preventing crime on highways. The Highway Patrol Vehicle (HPV) provides an enhanced sense of safety and security to highway Commuters by ensuring smooth traffic flow and managing any impediments due to accidents or other crimes.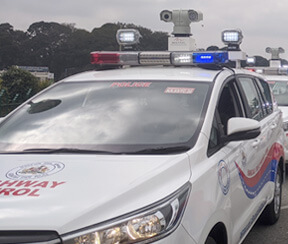 This case study showcases Mistral's expertise in design, integration, and commissioning of advanced highway patrol vehicles, that features sophisticated monitoring, control and communication systems.
The Customer
The Highway Patrol Vehicles are designed for Karnataka State Police who were keen on inducting advanced patrol vehicles with modern communication, surveillance and monitoring systems.
The Requirement
The Karnataka State Police under the directive of the Hon'ble Supreme Court had approached the industry for solutions to enhance road safety and reduce accidents on the highway. Mistral was awarded the contract to design and integrate a modern surveillance system into an SUV platform for 24×7 patrolling of highways and smooth traffic management. These Highway Patrol Vehicles had to have the below-mentioned equipment to ensure that traffic discipline is maintained, and valuable lives are saved in case of any emergencies.
The Highway Patrol Vehicle requirements included:
Public Addressing System
Search/Emergency Light
Pan-tilt Zoom Surveillance Cameras
Network Video Recorders and Communication Console
Central Monitoring Station
Alcohol Breath Analysers
UPS Power Supply
GPS Tracking & 4G based Video transmission
Rescue tools – Crowbar, Axe, Snatchstrap
Design of Highway Patrol Vehicles
Mistral designed and integrated Highway Patrol Vehicles with special-purpose equipment and custom-made components such as PTZ surveillance camera, Top-Bar LED light, Pan-Tilt searchlights, etc. for patrolling and monitoring the traffic on Highways.
The Highway Patrol Vehicle was based on a newly launched Toyota Innova CRYSTA which was supplied by the Karnataka State Police Department.
Below listed are the details of equipment integrated into the Highway Patrol Vehicles:
Surveillance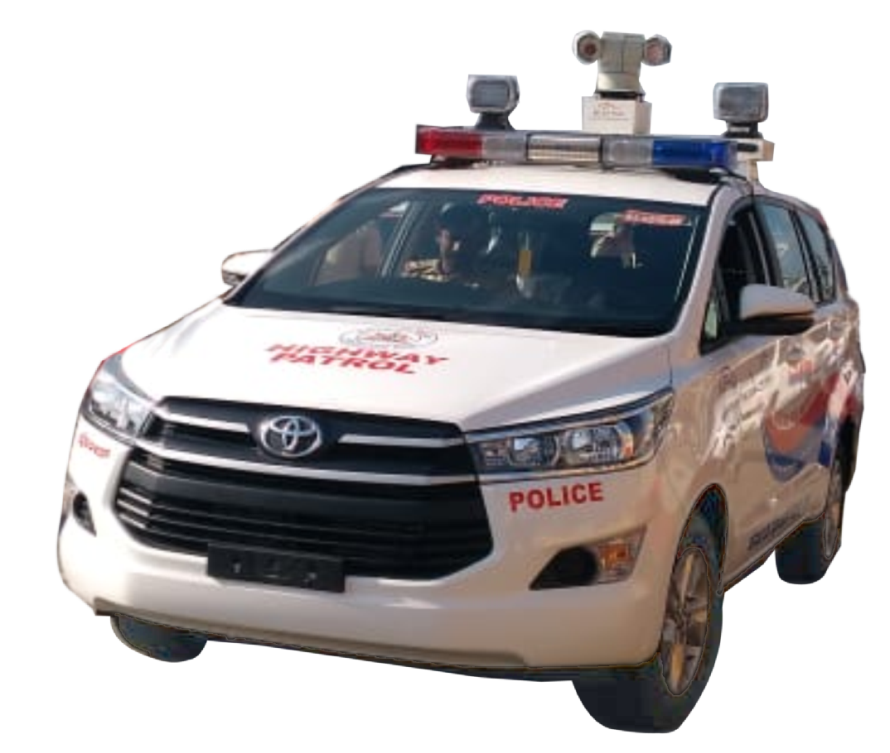 Custom-designed PTZ Camera – A 30X Pan-Tilt-Zoom Surveillance camera to provide a panoramic/long-range view of the traffic, even during critical conditions. It allows remote adjustment of the camera to pan, tilt and zoom into objects with the high-resolution video quality.
Fixed Camera – A 1/2.8″ CMOS, full HD camera is fitted on the rear side of the vehicle.
Advanced Video Analytics (at Control Rooms) – To enable traffic enforcement, various customer-centric analytics like ANPR, Speed Monitoring, Triple Riding, Helmet detection, etc. have been enabled at the central control room effective traffic and safety management.
Monitoring & GPS Tracking
Real-time Positioning
Geo-Fencing
Tracking of Highway Patrol Vehicles
Live Video Feed Monitoring from Central Command centre, & designating officers through their mobile devices
Command & Dispatch
An IP based Command & Dispatch communication system is provisioned inside the Vehicle enabling Control Room operators to communicate with the police personnel in Highway Patrol Vehicles and vice versa.
Statistics & Reports
Malfunction, Alarm, Business & Illegal reports, Device Logs, Operation Logs.
Vehicle CAN data
The VMS software provided by Mistral allows the officers in Command Control Room to access the CAN data like speed, remote start and stop in case of emergency, fuel level, etc of the vehicle for remote monitoring and decision making.
Public Addressal and Traffic Management
PA System
Expandable Reflective Traffic Delineators / Barricades
Rescue & Emergency response
Rescue Tools (Snatch Strap, Foldable Saw, Crowbar)
First Aid, Stretcher
Managing Traffic Violations
Breath Analyzer
Speed Gun, ANPR
Read the full case study to know about the challenges and benefits of Highway Patrol Vehicle.