Mobile Command and Control Vehicle (MCCV)
The Mobile Command and Control Vehicle is a custom made, robust vehicle, outfitted with specialized surveillance, communication & monitoring equipment for homeland security applications. The custom designed Mobile Command and Control Vehicle (MCCV) is capable of facilitating and supporting diverse mission critical applications for military, security or police forces. The Mobile Command and Control Vehicle can be easily deployed at the site of emergency or at a location that has potential threat, to take complete control of the situation by providing seamless 360 surveillance and monitoring. The Mobile Command and Control Vehicle (MCCV) enables rapid communication and coordination among multiple agencies and higher law & order authorities responding to the situation, providing them complete real-time situational awareness.
This case study showcases Mistral's capability in designing and integrating a Mobile Command and Control Vehicle (MCCV) for law enforcement agencies, aimed to monitor and manage massive rallies, VIP movements, and tactical security operations among others.
The Customer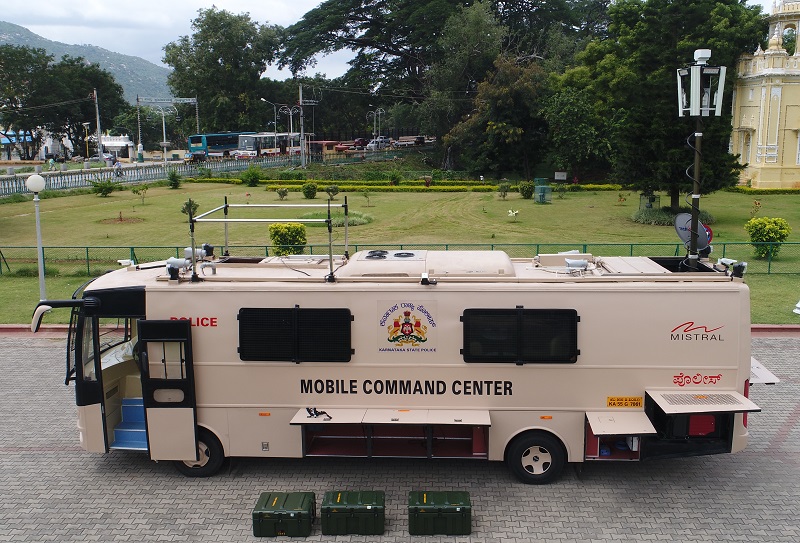 This Mobile Command and Control Vehicle is designed for Commissionerate of Police for Mysuru & Hubbali-Dharwad cities, under the jurisdiction of the Karnataka State Police. The Police were keen on inducting the MCCV with modern surveillance and monitoring system – to their armory for tactical operations and providing special strength to the 'police eye'.
Mobile Command and Control Vehicle – Requirement Specs
The customer wanted a tactical Mobile Command and Control Vehicle for incident management necessitating mobility, advanced video surveillance cum monitoring and an efficient communication system. The MCCV had to have an efficient connectivity medium with the Police Head Quarters & Police Control Rooms for quick, effective communication, providing real-time situational awareness to the higher officials enabling quick decision making. The MCCV had to be highly efficient in terms of its surveillance & monitoring capabilities and act as a Mobile Command Center during emergencies, massive rallies, conventions and protests.
MCCV  – Solution Provided
Mistral designed an integrated state-of-the-art MCCV with two primary operators, namely Communication and CCTV. The MCCV is self-contained in terms of power generation with a silent petrol Genset and UPS providing up to one hour of battery back-up. The Mobile Command and Control Vehicle can also operate using raw power according to the situation. The Communication operator in the MCCV comprises of an Integrated Communication Switch, a Digital Console System that combine radio and telephony interfaces, enabling the user's radio walkie-talkies to converse with multiple frequency devices such as GSM Phones and UHF/VHF/HF radios. The feature keeps the officers and first responders always on top of the situation by seamlessly communicating and engaging with higher authorities and general public, wherever applicable, during an emergency to initiate quick necessary actions as the situation demands.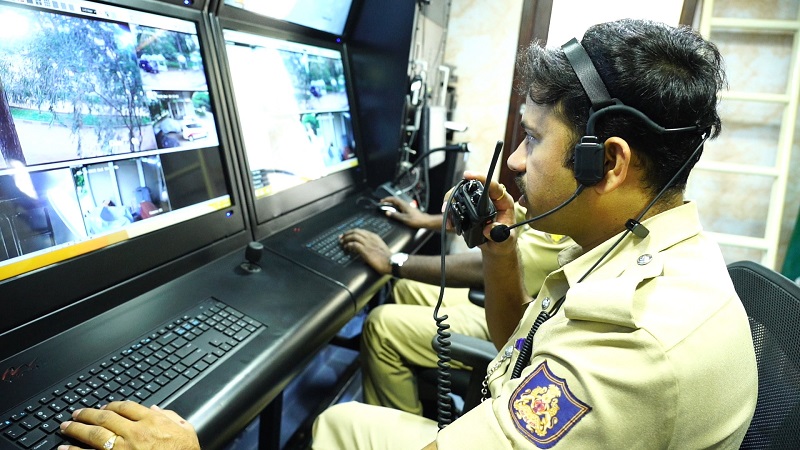 The CCTV Operator  in the MCCV includes four full HD resolution cameras installed on four sides of the Mobile Command and Control Vehicle and an advanced mast-mounted PTZ Camera to record & stream finer details of the situation. The MCCV is also equipped with 10 battery powered wireless cameras for rapid deployment at strategic locations in the area of surveillance. These cameras play a vital role, recording the scene from various angles and heights as deployed, to provide deeper intelligence to the monitoring team in the Mobile Command and Control Vehicle. The MCCV also has four long-range Non Line of Sight [Non-LOS] Body Worn Wireless Cameras that can be worn by the police personnel, streaming the live camera footage to the command and control centre.
Read Full Case Study to know more about the Mobile Command and Control Vehicle (MCCV), its features, other electronic sub-systems and benefits for customer.