RADAR Computer Unit (RCU)
Introduction
In the recent times, RADAR signal processing has become one of the most demanding embedded computing applications in aerospace and defense systems. A high density of sensor signals received, are translated into the digital domain, and vice-versa for transmission, storage and analysis.
An RCU (RADAR Computer Unit) is one of the main sub-systems of a RADAR, responsible for RADAR operations such as RADAR Control, Pre-Processing, Target Detection and Tracking, and Post Processing. All these operations need to be completed with real-time constraints laid by the scenario or application.
This Case Study showcases Mistral's expertise in design and development of a high-performance RADAR Computer Unit that addresses the high-speed signal and data processing challenges of modern-day military RADARs.
The Customer
The customer is a leading Defense Laboratory working in the field of RADAR and RADAR Sub-systems
The Requirement
The customer approached Mistral to design, build and integrate a Liquid Cooled Hybrid VPX system that functions as a Signal Processor Unit. The Signal Processor Unit forms one of the main sub-systems of a vehicle mounted multi-antenna RADAR that executes all RADAR signal processing algorithms including Pre-Processing, Detection and Post-Processing, based on defined situational parameters.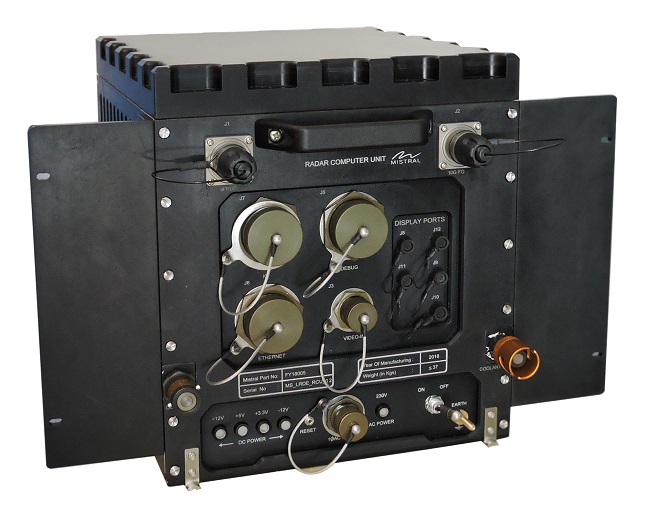 Mistral conducted a requirement analysis, followed by a feasibility study to identify all the control and computational requirements of the unit to meet the expectations of the customer. The customer was keen on a compact system with 8 card slots to house multiple compute intensive cards to perform signal processing and enable high bandwidth communication for the large amount of data that is to be processed.
Solution Provided
Based on the detailed requirement analysis, Mistral architected a state-of-theart RADAR Computer Unit. Considering the high functional significance of the Unit and the critical data it had to handle, Mistral paid special attention while designing, sourcing and integrating various components that went into the Unit.
The RCU architecture comprises of multiple Intel i7 Processors along with GPGPU implemented on a standard VPX bus architecture, with high speed Ethernet switch fabric & PCIe connectivity for Communication, Processing and I/O Elements of the system.
As per the customer requirements, the unit is designed to record raw data and has an in-built data generation capability for independent verification of RADAR chain from signal processor. Considering the large amount of data that the unit had to receive and process, we opted for Multi-core GPGPU accelerators with a total of 960 Cores. To handle the amount of heat dissipation, primarily from the graphics cores, we implemented a liquid cooling methodology. The unit is also provided with SATA based Flash Disk with each of these SBCs to record and replay data. The RCU is designed to communicate with other RADAR sub-systems over LAN and external systems through Serial FPDP and 10G Fiber Optic interconnect.
Know more about the highlights of this system, hardware and software design, System Integration, Testing and Validation phases involved in full case study.