CHAMP-AV9
An Intel Core i7 4th Gen based Digital Signal Processor Card with the substantial bandwidth and system-enabling features of the 6U OpenVPX form-factor, available in rugged air-cooled and conduction-cooled versions.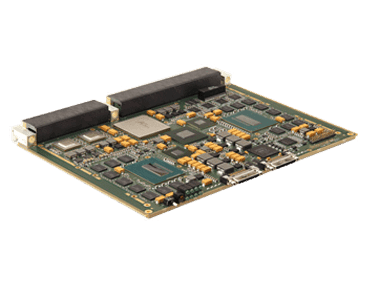 Overview
The CHAMP-AV9, a Signal Processing Engine from Curtiss-Wright, is specifically designed to operate in extreme environmental conditions for rugged, deployed applications at the highest possible performance level. It combines the floating-point performance of the Intel Core i7 processors, with the substantial bandwidth and system-enabling features of the 6U OpenVPX form-factor.  Providing a pair of quad-core 4th generation Core-i7 (Haswell) processors, featuring the updated AVX 2.0 instruction units and redesigned on-chip graphics execution units, the CHAMP-AV9 offers a 2-4X performance per size, weight and power improvement over previous DSP modules. Using the enhanced Intel® Advanced Vector Extensions (Intel®AVX) 2.0 instruction set, the CHAMP-AV9 offers 664 GFLOPS per board, not including the on-chip GPGPU numerical co-processors, to deliver more than double the performance of previous DSP solutions.
CHAMP-AV9 is also the first OpenVPX DSP engine to utilize a 40 Gigabit per second (Gbps) Ethernet or Infiniband data plane fabric, providing 14 GB/sec full-duplex throughput with RDMA to support scalable, distributed, real-time computing. With full VxWorks® and Linux support, as well as accompanying middleware, libraries and tools, the CHAMP-AV9 provides a seamless migration path for both existing CHAMP-AV DSP applications and large, distributed node HPEC systems. With CHAMP-AV9 Signal Processing Engine, Curtiss-Wright maintains performance leadership in COTS DSP for the industry's harshest environments.
The Signal Processing Engines incorporate the enhancements of the OpenVPX (VITA 65) standard with a  complete suite of Data Plane, Expansion Plane, and Control Plane interfaces. With up to 14 GB/s of data plane fabric and 32 GB/s of expansion plane performance, the CHAMP-AV9 has the bandwidth required to effectively harness the power of the processors.
TECHNICAL SPECIFICATIONS
Extreme numerical processing for DSP and general purpose applications
Reduces size, weight, and power 2-4X over previous generations
Seamless integration into HPEC systems including FPGAs, GPGPUs, Sensor I/O and Middleware
6U OpenVPX compliant
Two Intel Core-i7 quad-core 4th generation processors
614-1318 GFLOPs peak computing performance
16 GB DDR3 SDRAM with ECC
Four 40 Gb Ethernet Data Plane interfaces at an aggregate 112 Gbps
Two 16-lane Gen3 PCI Express Expansion Plane interfaces
Power management features
TPM Support (optional)
VxWorks BSP and Linux LSP
SUBSCRIBE TO OUR NEWSLETTER