MPMC-9335
Compact Signal/Image Processing 3-slot 3U VPX™ System in a rugged enclosure providing 500GFLOP* performance with a quad-core Intel Core i7 processor with NVIDIA Fermi GPGPU capabilities.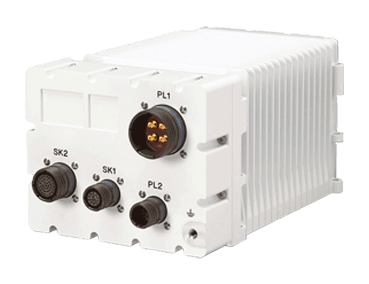 Overview
The Curtiss-Wright MPMC-9335 3U 3-slot embedded subsystem is a Rugged Mission Computer from Curtiss-Wright. It uses advanced packaging techniques to provide a quad-core Intel Core i7 processor with NVIDIA Fermi GPGPU capabilities in a rugged enclosure that measures a compact 250 cubic inches, yet is able to operate and survive ambient temperatures of 71C using baseplate cooling. This enables system designers to implement and deploy a highly capable processing system without the need for fans, vehicle supplied air, liquid, or other demands from the vehicle.
The Rugged Mission Computer, MPMC-9335 is an extremely flexible system that can be readily configured to meet the needs of any military or aerospace requirements, from benign laboratory to harsh deployed ground vehicle environments.
The MPMC-9335 is designed for the highest level of performance in military applications. The chassis meets or surpasses MIL-STD-810 Qualifications for Military Equipment and DO-160E Environmental Conditions for Airborne Equipment. The system has passed environmental tests for a wide range of conditions such as temperature, altitude, shock, vibration, fluid susceptibility, voltage spikes, and electrostatic discharge. In the system's sealed chassis, the MPMC-9335 circuit cards are protected from external environmental conditions such as dust, sand, and humidity. For improved performance and reliability, the system is designed to resist external EMI and minimize emissions.
TECHNICAL SPECIFICATIONS
3U VPX backplane
(1) VPX3-1257 3U OpenVPX SBC with Intel Core i7 Quad Core, 8 GB DDR and 8 GB Flash SSD
(1) VPX3-491 3U OpenVPX GPU Digital Signal Processor with NVIDIA Fermi GPGPU and 2GB GDDR5
(2) MilCAN offload controllers
(4) Gb Ethernet ports
(1) Spare slot for VPX SSD
Baseplate cooling
9.3 x 5.5 x 4.9" (LWH)
14.5 lbs (fully populated)
Power Supply: 28 (17.5-32) VDC input
DEF-STAN 61-5 Part 6, Issue 6
SUBSCRIBE TO OUR NEWSLETTER