Facial Recognition Software
Facial Recognition software is an Artificial Intelligence enabled smart solution to identify and verify faces from a digital image or video footage in tough environments. The software provides law enforcement agencies real-time face recognition, detection, tracking and monitoring capabilities.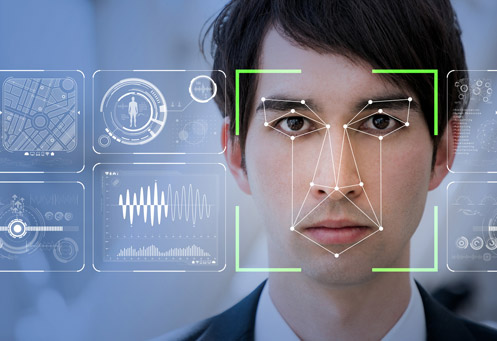 Overview
Strengthened by an intelligent analytical framework, Facial Recognition software from Mistral is made available in association with INKERS, a leading provider of AI-based software and algorithms. It enables quick face registrations, real-time face recognition, tracking, instant attendance, smart alerts, and ERP integration.
The Facial Recognition software is an AI-powered smart solution offering an astute and revolutionary technology. It applies modern AI techniques to recognize faces at different angles in tough environments and is engineered to work in large-scale deployments. The intelligent analytics framework is a compelling security and surveillance solution, ideal for Police Forces, Airports, Railway Stations, Critical Infrastructures, Constitutional Institutions, Aerospace and Defense Organizations, Smart Cities and other security agencies.
The robust, scalable platform works with all types of cameras, from mobile phones to advanced surveillance CCTVs. The backend server fetches video stream from multiple sources and processes them for face detection, recognition and tracking.
The software platform includes a user-friendly graphical dashboard, which helps the user to generate reports, define user groups such as Security Personnel, Senior Officers, Administrators, contractors, etc., define restricted areas [Go/no Go zones], add blacklisted faces, create custom alarms and other notifications. The alarms and notifications alert the user in case of a breach by unknown, unwanted visitors or any custom rule being broken.
Features
Scalable Face recognition Surveillance System
Unbiased analytics
Real-time adaptive system to minimize false alarms
Productivity data
Large-scale Facial Recognition Software
Unwanted/unauthorized entry detection
Custom alert or notifications
Compatibility with existing ERP solutions
Automatic Attendance
Automatic face recognition of authorized individuals or re-identification of unknown people
Automatic alert for blacklisted/barred people or no-go zone breach
Customizable MIS reports (attendance / productivity-graphs / alerts /movements / area-access / historical comparisons / area-usage / etc.)
SUBSCRIBE TO OUR NEWSLETTER