InkVision. AI - Video Analytics Software
Analysis of video content has become a key challenge for all organizations, be it education, defense, security, government, or enterprise. This Intelligent Video Analytics Software follows a structured method for analysis and management of the video content, which is the need of the hour.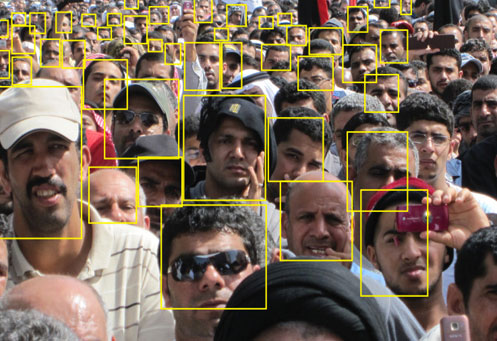 Overview
The InkVision.AI is an Artificial Intelligence driven Video Analytics software from Mistral that provides actionable intelligence in real-time. The Intelligent Video Analytics Software can be deployed in demanding environments for real-time analysis or post-event investigations.
The state-of-the-art Artificial Intelligence driven Video Analytics solution from Mistral is developed in association with INKERS, a leading provider of AI-based software and algorithms. The InkVision.AI adopts an AI and ML approach, wherein the system learns by itself from the data collected and analyzed.
The Intelligent Video Analytics software comprises of proprietary deep AI models that excel at visual comprehension. Each pixel block in an image is analyzed semantically and tagged. This enables large scale face detection and recognition. The additional modules for image segmentation, monocular depth estimation, super-resolution (especially faces), and human pose estimation enables object detection & tracking along with scene and activity recognition. The InkVision.AI algorithm also integrates motion prediction and estimation strategies across frames, reducing overall computational requirements.
The InkVision.AI is ideal for Smart City projects, providing a range of algorithms for implementing traffic management and safe/clean city applications. Advanced Vision Analytics Capabilities make InkVision.AI a perfect AI tool for Homeland Security applications. Based on cutting edge Artificial Intelligence technology, the InkVision.AI can process live camera feeds to achieve the objectives of Smart City Mission (SCM) under Smart Urban Solutions by providing improved visualization of ambient or emergency in the city and facilitating data-driven decision making.
Some of the applications for AI-based Video Analytics include: Real-time Video Analysis for Crowd and Traffic Management; Enhanced safety and security with features like Intruder Alert, Abandoned Object Detection, Behavior Analytics etc.; Rapid people identification during Disaster Management and Emergency Response; Improvement in the efficiency of public service delivery and Better management of public infrastructure and utilities.
Features
Scalability - adding more cameras or features just requires computing hardware
Unbiased analytics - avoiding human errors
Real-time adaptive system to minimize false alarms
Real-time data to support the decision-making process in immediate/short/long terms
Capability to analyze person/vehicle behavior
Simulate and predict situations
On-prem and On-edge solutions providing complete data security
Capability to enhance GPU performance by 2.5 times
Future-ready with continuous learning capability
Custom Analytics to address customer's key needs
Agnostic to the make and model of Video Management Software (VMS)
SUBSCRIBE TO OUR NEWSLETTER