Connected Car Technologies
Introduction
Today's automotive electronics solutions are going through a major transition in terms of technology consolidation and hence we come across many new feature additions and integrations inside the car. This is helping the existing and incumbent players entering into the Car Technology Market and will ultimately provide more benefits and better user experience to end customers.
The block diagram below shows the four different blocks/aspects of changing Technology areas inside a Car Platform.
Technology Areas inside a Car
I will elaborate each of these technology blocks in detail in the following sections:
Infotainment
Infotainment as a term refers to "information based media content such as news and entertainment". When the term is used in conjunction to car platforms, it is used to describe:
In-Car Media Player and Radio Station support
Radio Data System based Services for providing real-time Traffic Updates
Digital Audio Broadcast related services
For the In-car Media player option, a number of hardware and software approaches have been implemented and are made available in today's car platforms. For example, USB Key Support to enumerate the songs and play them in sequence, Audio CD/Data CD/DVD/Blue-Ray Interface to the Media Player, Interface to the user's Smartphone via Bluetooth, interface to the user's Tablet/Smart-phone via MTP and Apple's proprietary iAP Protocol through which Apple specific Devices can be connected to the car's dash Media Player System.
In addition to the technologies listed above, a, lot of new opportunities are opening up in automotive Infotainment due to the integration of new/modified technologies. Some of these new technologies that we will see in the coming years include:
Wi-Fi inside the Car
DLNA based Media Streaming
Miracast or Remote Media Display streaming
UI Interface Technologies for better/smarter Dash Displays
Voice commands based Interfacing to Car's infotainment enabling Hands-free operation.
Telematics
Telematics is the usage of Telecommunication protocol/standards for information generation/exchange between the car and the user/controller authority. Telematics are efficiently used by Fleet Owners to track their vehicles for position/latitude/longitude information. It can also be used to track a stolen car for its current location.
Telematics is also used as SOS interface when a car breaks down in the country side/out of city limit areas. It can be utilized to run remote diagnostics on the car ECU Platform.
Today, telematics is slowly being adapted to form car clubs/groups of people who wish to travel together to a known destination/location. Telematics can be used to share the on-board diagnostics information to retail agencies. It can also be used as a promotion channel by the Car/OEM Company to share more details/updates on their new and upcoming vehicle platforms.
Big car OEMs and manufacturers are coming with their own proprietary solution for Telematics. For example, consider the "BMW Assist" Program which uses a separate Telecommunications hardware [2G/3G/GSM today] to share the information regarding the car's location to the manufacturer /vendor in case of car malfunction or a flat tire.
Navigation and Mobility
As the name suggests, this is an integral part of the Car's technology that provides navigation and mobile access while inside the car. The navigation scenario itself has witnessed huge changes from initial days to new ways such as Digital/3-D Maps of cities, voice assistance, real-time weather, Traffic and Parking information inside the city limits.
Even in Navigation and Mobility, see a trend for personalized/customized experience from each car OEM/manufacturer.
Hyundai supports "Blue Link" which is an integrated multimedia navigation system enabled using the user's smartphone to gather real-time traffic and infotainment content. Ford uses the "Ford Sync" to enable the navigation and infotainment options. Toyota uses the "Toyota Entune" to provide satellite based information on Traffic, Weather, Sports, Stocks and Fuel Prices.
These not only help in Navigation, Mobility and Infotainment options, but can also provide emergency services via the user's smartphone to Police/Civic Agencies in case of car crash/accidents.
One more recent trend with respect to Navigation is the use of Head-up Display Units inside Luxury/high-end cars. This technology allows navigation signs to be displayed/super-imposed on the wind-shield of the car so that the driver can readily view the navigation signs and follow the route suggested by the Navigation Software. Texas Instruments is working on bringing its DLP technology to Cars for providing compact size Head-up Display Units to be integrated inside Car Platforms.
ADAS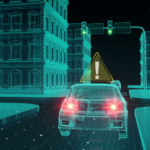 Advanced Driver Assistance System (ADAS) basically takes over some of the decision making process away from the humans. Various statistics have shown/demonstrated that human induced judgment errors are the cause of majority auto accidents. The goal of ADAS is to aid/assist the drivers to drive more efficiently and safely.
The Driver Assistance Program can be further divided into the below mentioned three categories.
Passive Safety Systems
Active Safety Systems
Co-operative Safety Systems
Passive Safety Systems refers to the usage of belts and air-bags which help in reducing the over-all injuries in the eventual case of an automotive accident.
Active System Systems adds some more intelligence into the car platform. It can be used in Adaptive Cruise Control, Adaptive Headlight system, Lane Collision Warning, Lane Entry/Departure warnings. It can also be used to indicate about incoming Pedestrians, Car parking Assistance.
Co-operative Safety Systems involves active communication among cars in small vicinity to each other to identify their presence to each other. This can be used to avoid possible collisions during street/road intersections.
Conclusion
Connected Car technology is increasingly taking advantage of the rise of Smartphones and apps are available to interact with the car from any distance. Users can unlock their cars, check the status of batteries on electric cars, find the location of the car, or remotely activate the climate control system using their smartphones. Newer trends in ADAS that are catching up include Adaptive Cruise Control, Driver Drowsiness Detection, Intelligent Speed Adaptation and Collision avoidance System. Emergency, tracking and remote operation services are in place and will soon be superseded by V2V (vehicle-to-vehicle) and V2I (vehicle-to-infrastructure) technologies that will render transportation safer as well as entertaining and environmentally efficient. More about this in my next post!
*Published in EE Times India